When you are in the store to purchase an all-in-one smartwatch to use in daily life, then you almost see Huami & Garmin in each segment. These are the two brands that launched many smartwatches in need of various users. Like in the past few months, Garmin has launched Fenix 6 series, Marq, Swim 2, Delta, Forerunner & Instinct 2, that supposed to launch in the coming weeks. The same goes for Amazfit as it has showcased Amazfit GTS, GTR, Verge 2, T-Rex, Bip S & Stratos 3. Soon, it will introduce the Amazfit Ares smartwatch with Military standard hardware design. This month, Huami has also released its first fitness band, Amazfit X.
Now, if you are getting confused to choose the best smartwatch in 2020, then we will sort of some top options for you. In today's guide, I will recommend you some best quality wearables that will give you everything at your budget price. In the list, I have sorted the most expensive smartwatches, then the low budget and with features like ECG, sleep tracking, heart rate monitoring, swim tracking, SpO2, GPS & other vital functions. The list belongs to the best smartwatches launched in 2019 & 2020 to buy in 2021.
Best Amazfit smartwatches in 2021
1. Amazfit GTS
I recommend the first smartwatch, the Amazfit GTS, to buy in the current year. It is one of the most loved smartwatches due to its design and overall functions. The design match with Apple Watch and the features are the same as Amazfit GTR & Mi Band 4. It comes with custom watch faces, heart rate monitoring, night mode, weather data, PAI, and smart notification to get WhatsApp messages. It counts a 1.65-inch screen with a 340 PPI display & it offers 14 days of battery.
2. Amazfit T-Rex
The Amazfit T-Rex is the toughest smartwatch from Huami for outdoor activities. Garmin has plenty of military standard smartwatches like Delta, Marq & Instinct series. Now, Huami has created a T-Rex with 12 military certifications body designs for the 1.3-inch AMOLED display. To run it longer, the company has planted 20 days of battery backup to use in normal mode. It is water-resistant up to 5 meters and comes pre-installed 14 sports mode. On the Amazon, website T-Rex is available for $139.99.
3. Amazfit Stratos 3
In all Huami smartwatches, Stratos 3 is much advanced due to its extensive features. It is the first watch that comes with Corning Gorilla glass technology to protect the screen. The Huami calls it a full moon reflective screen to make it readable in direct sunlight. It keeps you healthy with 19 sports mode and to run it longer, packed with 300 mAh battery, which has juice for seven days. You can play & control songs, get all social media & text messages on Stratos 3. The watch is not available in all countries. It may soon launch in the US & European regions
4. Amazfit Verge 2
These days smartwatches with ECG functions are called premium watches. In the Amazfit series, only Verge 2 supports the Electrocardiogram (ECG) function. The Apple Watch, Galaxy Watch Active 2, Withings, Oppo Watch has ECG to detect heart condition. After the competition, Huami launched Verge 2 with this feature, but sadly the watch still not launched in all the countries. Apart from that, it supports 4G connectivity & PAI function.
5. Amazfit GTR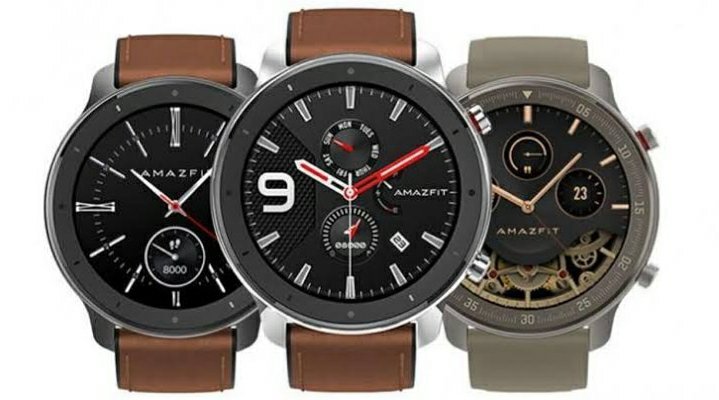 Amazfit GTR is another entry-level smartwatch for users. There is no difference between Amazfit GTR & GTS that GTR comes with a circular display, and the GTS has a rectangular screen. Also, it shares the same features as Mi Band 4, except GPS connectivity & PAI function. Recently, the watch has received screen timeout, weather & UVI software features. The smartwatch is available for $139.99 in the US. You can buy Amazfit in 47mm & 42mm size on Amazon, AliExpress, GearBest & other online retailers in many countries.
6. Amazfit GTR 2
Now, we are moving to the 2021's best Amazfit watches. The Amazfit GTR 2 comes with a 1.39-inch screen with an AMOLED display. It offers heart rate, sleep rate, BioTracker 2.0, microphone, and blood oxygen saturation feature. In the addition, you will get 4GB of internal storage for the offline music. The Amazfit GTR 2 also has an Amazon Alexa function to receive your commands and act accordingly.
7. Bip U Pro
In the entry-level segment, Amazfit Bip U Pro is a real gem. It has gained much popularity with its all-in-one features. You can get a microphone, Amazon Alexa, and a geomagnetic sensor on the smartwatch. It offers a 1.43" HD display with water-resistant technology. In fitness, users get heart rate, sleep rate, blood oxygen, 60+ sports modes, 50+ watch faces, and 9 days of battery life. In the market, Bip U Pro is available for $60.
8. Amazfit GTS 2
With the large 1.65-inch display, users can view all the smart notifications. The Amazfit GTS 2 is the rectangular version of GTR 2 but in a larger shape. The smartwatch offers you blood oxygen saturation, heart rate, sleep rate with REM, stress & breathing, and near 100 workout modes. With Amazon Alexa, you can get anything in your command. The 4GB storage will save your music, screenshots, watch faces & other tools. It is available to purchase in many countries.
Huami has allowed you to choose the best smartwatch at a budget price. The choices are from Amazfit Bip, Bip Lite, Bip S, Verge Lite, Stratos & pace lineup. As per your budget, you can choose the best Huami Amazfit smartwatches.