Samsung Galaxy S10, Galaxy S10+ & Galaxy S10e are the perfect premium smartphones for every customer. Its extra valuable features keep its bar above other smartphones. It is faster in speed, better in the display & runs last longer with the powerful battery pack. And such a monster phone is always better to play any hardcore games. These days most gamers around the world are getting their hands on Fortnite, PUBG Mobile, Asphalt 9: Legends, Asphalt 8: Airborne, Modern Combat 5, Pokémon Go, and Ludo King. Apart from these high-trending games, the Play Store has some other best quality games to take advantage of these beast phones.
The significant amount of RAM, bigger battery & fast processor of Galaxy S10, Galaxy S10+ & Galaxy S10e makes it worthy of trying any games. The list will go on if I mention every playable game from the Android Play Store. So instead of all of them, I will recommend you the best 15 games for the new devices. Some of these games are best in graphics, some are good in gameplay & some are very addictive. These are the 15 best graphics Android games for Samsung Galaxy S10, Galaxy S10+ & Galaxy S10e smartphones.
1. Hitman Sniper
Hitman Sniper game is famous for its suspenseful, sophisticated, power-packed, and stylish sniper experience. It has a challenge for gamers called the survivor challenge in death-valley. In it, you have to show your all advanced skills and have to explain non-stop actions, as a zombie hunter.
More than 130 missions and ten contracts are there to entertain you. These all different levels of the game will help you to upgrade your execution in front of enemies. Unlimited targets are there with 16 different sniper guns, gamer has to collect all those weapons and have to complete the targeted blueprints to unlock weapons. Your game will help you to boost your scoreboard and rank in all-over gameplay.
2. Mental Hospital IV
It is a kind of horror survival and suspicious match, and you have to understand all the secrets and madness in it. In this, you can see the principal's character is designed as haunted by a story that happened in the past at St. Peter Hospital, and the story begins here. A stranger called you to tell you all the details about an incident in a face-to-face meeting, and then you took a step ahead to the specified place.
After some moments, you got stuck into an orphan home and faced horrible moments and incidents over there. The character will realize that he cannot describe even a single thing in word what he saw and met over there. He might be shocked at that time, but the memories will last forever with him. In short, in this horrible game, you have to solve this tangle in horror situations.
3. 80 Days
In this game, you have to discover your route around a 3D globe and have to travel by submarines, steam trains, airships, and other traveling options given in the game. This game is specially designed for people who love to do high adventures & 80 Days is the perfect game-play for them. It is a racing game with in-game never stopping the clock. It also has lots of city locations and Trains, steamers, hot-air balloons, boats, camels, and horses.
These are all places, animals, transport options, and each and everything is connected and narrated with a story where you control every single thing. It is an online game that gives you live status notifications that show you the position of other players. In the game disasters, their routes, speed, time, will help you to maintain your playtime and strategies.
4. Last Day On Earth: Survival
Last Day on Earth is all about survival in the zombie world. Hardcore fans of haunted or zombie gamers have lots of things to do in it. You have to equip your survivor with powerful weapons before going on a desperate trip to survive through wild animals and to destroy harmful zombies. The gamer has to travel through seasonal locations by using crafting transport options given in the game.
If you cross the wall located on the west side of the game map, you will enter the online location. There you will get a unique costume suitable for your character. By entering an online world, you will be able to play with other players by interacting online with each other.
5. Lost Journey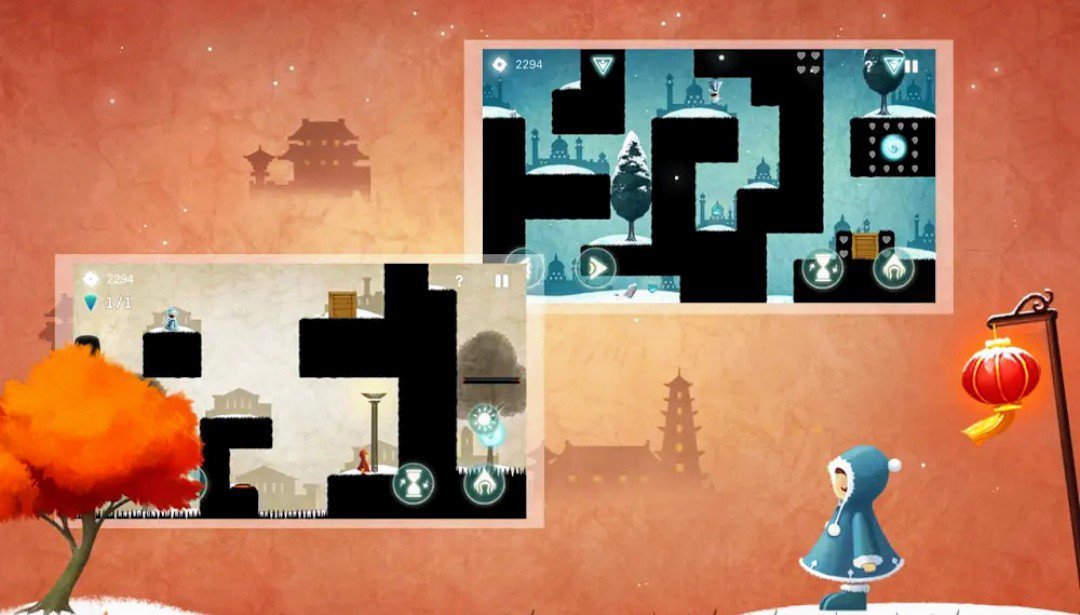 Lost Journey is one of the best games of 2016 as per the list of Google Play. As per the name Dreamsky, it is a puzzle game of space exploration. There is a character named Jennifer. She is the hero of this game. Background music effect and theme is the best part of the game. We feel like we are lost and traveling through the journey after death.
Players have to flip the screen to find pathways or to expose opportunities related to current game situations. This game has the nomination of the best china IndiePlay Game. The characters, another player, and background display kinds of stuff designed colorfully just like everyone's assumption about heaven. Lost Journey (DreamSky) will grant you achievements for completing levels and targets of the game.
6. Machinarium
Machinarium is related to adventurous things and drama-based action sequence games. It is an award-winning game developed by Botanicula and Chuchel (makers of Samorost Series). The Player has to help the main character of the game Josef to save his kidnapped girlfriend, Berta. In this game, Josef is playing the role of a robot, and the gang that kidnaps his girlfriend is named the Black Cap brotherhood gang.
Machinarium is the best game for Samsung Galaxy S10 users because the phone is packed with extraordinary graphics cards. It is high in graphics and visual effects so we can surely say that the player will enjoy it a lot while playing. It is readily available in Play Store, but you have to purchase it by paying Rs. 250.
7. Lord's Mobile: Battle Of The Empires
The game in one line – conquer kingdoms, create an empire, and win the war. As per the name Battle of the Empires, it is a multiplayer game and the very first thing that is clear to all of us is that it is all about battles and wars between empires. At the very first move, the player has to explore clashes, and other kingdoms to fix your strategy then have to your castle.
To build your army, you can join many players to your force from the open world on an online mobile platform. You have to defeat warlords to secure your war heroes from opponents. And defend your kingdom from the attacks of enemies. If you win the war by defending your nation, then the victory is yours. It has in-app purchasing of weapons so if you want them for your army, then you have to pay the given cost for it.
Must Read: How to download & save Tik Tok videos
8. CSR Racing
CSR Racing sets a new standard of racing for all racing game lovers and regular players. The player has lots of options for custom supercars for racing. Its graphics are very mesmerizing that will give you the feel of a hyper-real drag racing experience. The Player has to compete with other players to win the race. Racers will be from all around the world with the help of your supercar.
The new McLaren P1, LaFerrari, Koenigsegg One: 1, etc., are the available option for you to select your one in supercars. With this, you have to accelerate your car speed as much possible as maximum and dominate other competitors to win the race in less time. It is all about real-time street racing, so every player should be quick.
9. Mini Militia – Doodle Army 2
Mini Militia is also an online multiplayer combat game and can be played by a minimum of 2 to a maximum of six players at a time. Twelve players can also play this game, but all have to connect via open local wi-fi. Sniper guns, shotguns, flamethrowers, and many more things are available as weapons. It has a wield aspect, so players have to play like that only. Players have to take quick and robust decisions to conquer all difficulties. It will help you to improve your decision-making skills. The bigger screen of Galaxy S10 series phones is better to command over the game.
10. Racing Fever: Moto
In this game, a player can enjoy both things, fun, and excitement. With its breath-taking graphics, a player won't be able to let his phone down for a while also. In motorbikes, 16 plus options are available to select the suitable one, and four different control options are also there for all the racers. Players have to defeat the other four leaders to maintain first possession in the race. It is available in 23 different languages so that everyone can play it and understand it in their native language.
11. Death Invasion: Survival
It is a story-based third-person shooter game in which zombies attack the town, and you have to fight for survival. Zombies have turned emotionless, and you have no choice but to fight against them with the weapons available. To survive resources such as food, arms, and fuel are indispensable, and you have to replenish them from time to time.
As these resources are placed at dangerous places discover them with the help of your teammates. Use the funds wisely to combat the horrific battle against the zombies. The gameplay has HD battle scenes as well as real story dialogue coupled with an excellent shooting environment.
12. War Robots
The War Robots is a real-time multiplayer action game with six vs. six-team battles. Here you are in a fierce fight against your rival robots, devise new tactics and strategies to dominate the battle. Destroy enemy robots and improve your combat strength to become champion.
There are multiple choices for you, such as 45 battle robots with different strengths. Also, more than 50 weapon types ranging from ballistic missiles to energy and plasma gun expands your choice in this decisive battle. You can also create your community for glorious victories. You can join the player vs. player battle against rivals from across the world in real-time.
13. World of Warship Blitz
It is an online multiplayer real-time battleship. Here you can join the player vs. player on the high sea to destroy your enemies. The game is an intense and realistic 3D multiplayer battle on your mobile, and you have to plan strategies to win the fight. In this 3D shooting war game and naval strategy stimulator, you should command the fleet to conquer the battlefield.
The gameplay provides real-world locations such as the Atlantic and Pacific oceans as well as you have the option to choose boats from 90 individual classes. You have the opportunity to switch between several types of combat weapons like torpedoes and missiles. Also, play either single player or team up with friends to combat enemies.
14. Shadow Fight 3
Shadow Fight 3 is the RPG fighting game on the Galaxy S10, Galaxy S10+ & Galaxy S10e devices. The theme of the gameplay revolves around shadow power. In the game, you are invited by three charismatic fighters to join for their cause. You can join the adventure fight game to decide the world's fate for many years to come.
The gameplay has excellent 3D graphics as well as realistic physics and animations. You can collect thousands of different weapons and equipment and combine three different fighting styles into your way. It has a big world map that contains various spectacular places to travel across. You can use multiple shadow abilities, perks, and rewards to become the fight star.
15. Mekorama
In this simple and user-friendly game, you have to help a tiny robot to stumble home through 50 puzzling mechanical dioramas. Mekorama has several features like relaxing gameplay, charming robots, and collectible level cards. This easy and small size game is another best option to kill your time. Because of its unique gameplay style, it is the best Editor's Choice game in the Play Store. Play Mekorama for fun on your new Samsung smartphone without losing any power.
The list is has finished here. We will add more if there is the best value for money games into the Android Play Store. Some of these games are free to play & some come with a price tag. Few games are now running at discounted prices so you must hurry to download them at half prices. Go to the Play Store & download these games on the new Samsung Galaxy S10, Galaxy S10+ & Galaxy S10e smartphones.