Huawei Band 7 has received a new software update that brings two new essential features. The latest smart band has finally gotten quick reply support that let you answer the incoming messages or app notifications. The WeChat Payment support has also come to Huawei Band 7. With the new payment system, users can make transactions from their smart band. WeChat is a very famous app in China, and it will help Chinese users.
On the first day, the band received support to reply to incoming messages, but it took some time for the company to enable it. Users will see some pre-defined texts on the band to give quick answers. You will find short answers like 'Good morning, Hi, Hello, Call you later, See you soon,' etc.
We are not sure about the support for pre-defined emojis, stickers, and other formats. Also, not sure if you can add your own short answers to the list. For now, it doesn't support any kind of input, so you can not reply to messages via keyboard or voice input.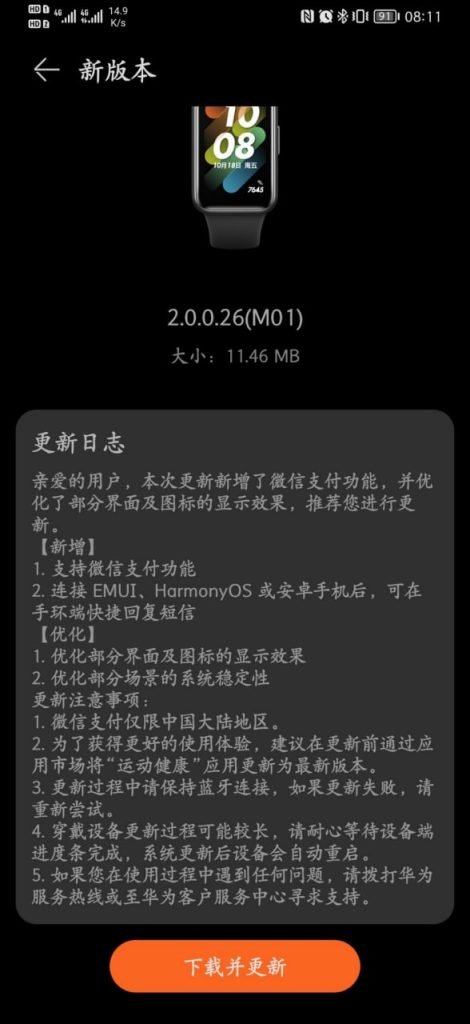 After installation, you can use WeChat Payment. For that, you have to first install the WeChat app on the paired smartphone. Later, with the help of a QR code, you can scan the app with the Huawei band to verify it. Like Mi Smart Band 7 NFC, you can make payments at supported outlets or shopping malls in China.
Furthermore, it optimizes the display effects of some interfaces and icons. Finally, it has stabilized many scenarios to get improved results. The new firmware version 2.0.0.26 is available to install in China, and it is nearly 11MB in size. Huawei may soon open this update in other countries.