Last year, we have exclusively revealed that the next year Xiaomi will allow users to use the NFC feature on Mi Bands outside China. Now, Xiaomi has launched Mi Smart Band 4 with NFC function for the global customers. Previously, the feature was supported only in the home country with AliPay. With global support, the users outside China can make contactless payments or pay at the local stores. The first country to receive the NFC version is Russia. As per the company's plan, it will launch in more European regions and later in remaining countries.
We had also first claimed that the next Mi Band 5 will get NFC support on the global version. Now, it also makes clear that the upcoming Mi Smart Band 5 will have NFC support in other countries. In Russia, customers can make contactless payments in shopping centers, supermarkets, gas stations, and other stores. It also supports paying public transports in the country like in a metro or at the bus station. You can see the supported list of transport on the Mastercard website.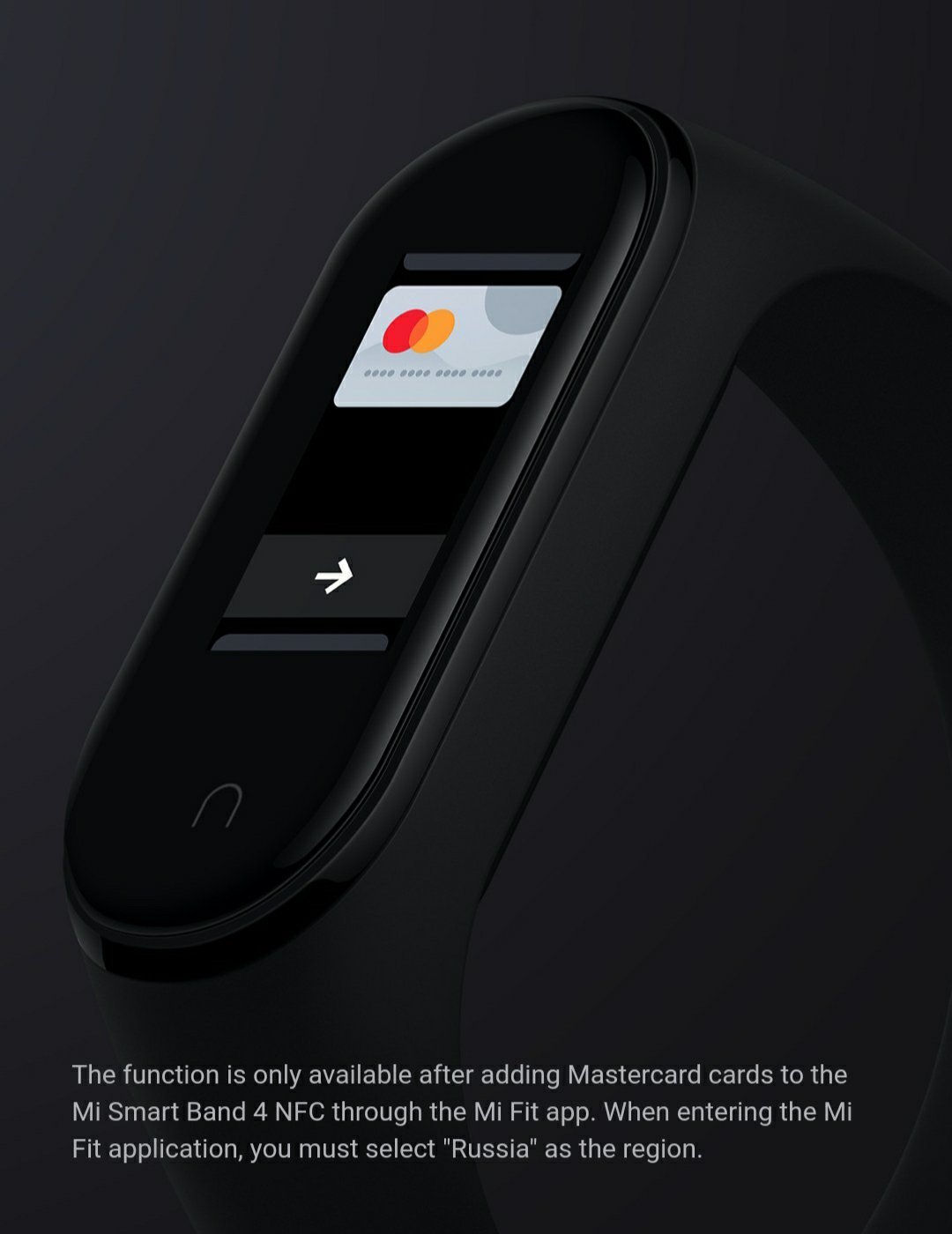 At the moment the NFC in the country only works with Mastercard. To link the MasterCard for payments, you must connect the Mastercard bank card with the Mi Fit app & select Russia as your country. In future updates, you may link the tracker with Visa, Google Pay & PayPal accounts. Note that, this is not the update for regular Mi Band 4. To use the NFC function for contactless payments in Russia, you have to purchase the 'Mi Smart Band 4 NFC' model. On the purchase, make sure it has an identifier MGW4059RU as both models look the same.
The new NFC model in the country will be selling for 3,990 ₽, where the regular one priced at 2,990 ₽. Xiaomi has the same plan for the upcoming Mi Band 5, as the global version will get Mi Smart Band 5 with NFC function. The sale for Mi Smart Band 4 NFC will start from June 16 from Mi.com & other online retailers. Later, the NFC version will soon launch in other countries. We will inform you when it launches in other regions.