In the new firmware version, the new features have come to Amazfit GT 3 series watches. Zepp Health, formerly Huami, brought a new notifications reply function and reply with SMS to incoming calls. With the new Amazfit GTS 3, GTR 3 & GTR 3 Pro users can now reply to the app or SMS notifications. Yes, this service was not available for these Amazfit smartwatches, and now it has been enabled. It will help users to reply to app notifications like Facebook or WhatsApp messages right from the wrist.
To reply to incoming messages or SMS, you can use smart replies like "OK, Hello, I am in Meeting, Good Morning," etc. There are also emojis to make it a better conversation and express thoughts. Also on GTR 3 Pro, you can make your own replies as per your need. You can do that from the Zepp app by visiting Phone – Manage SMS Replies (Not sure about GTR 3 & GTS 3).
Like app notifications, you can also reply with SMS to the incoming calls from the smartwatch. It lets you reject the calls if you are busy, and instead, you can send an SMS reply. This section also has pre-set texts like 'I am in a meeting.' Further, it has optimized smart alarm clock reminder logic for smartwatches. Finally, it has improved system stability and fixed known bugs.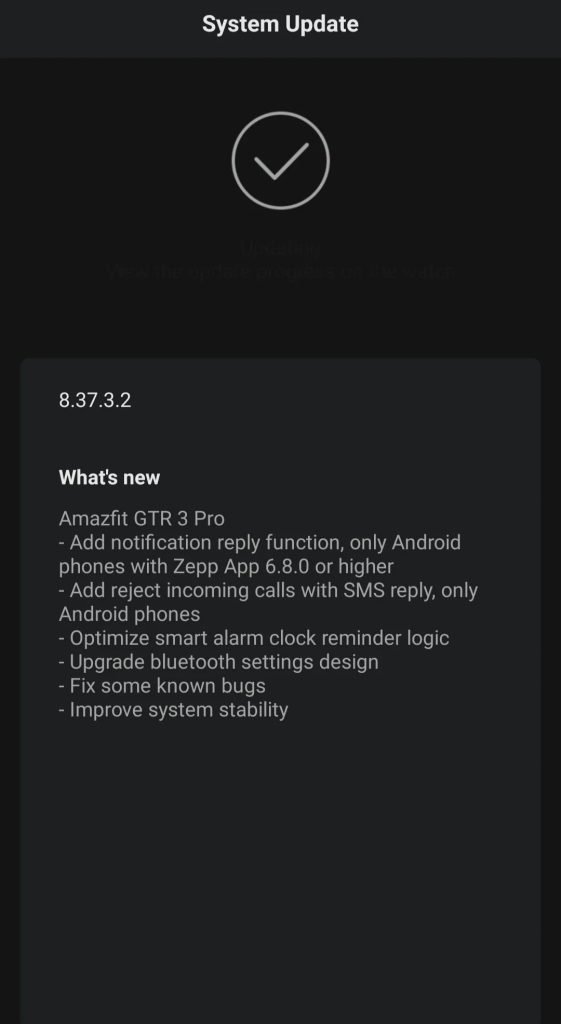 The firmware version 7.42.5.1 is rolling out for GTS 3, and the version 8.37.3.2 for GTR 3 Pro. The update is rolling out in the US, Italy, India, the UK, Vietnam, and some other major countries. The rollout The notification reply function & reject incoming calls with SMS reply features are only available for Android phones. You should update the Zepp app to the newest 6.8.0 version to use the new features. Check for the latest App update in the Play Store, and later download the new firmware.