Samsung has a huge stock of new and fresh watch faces for its all Galaxy Watches. We can remember when it first launched its new batch of dials for Gear series watches. Even the last Gear S3 & Gear Sport received separate faces as per their promo. Later, with the first-gen Galaxy Watch, Samsung launched advanced dials with lots of complications, designs, colors, widgets, and more. With Wear OS 3, the Watch 4 received even more dials plus faces from the Play Store.
At launch, the new Galaxy Watch 5 & Watch 5 Pro also received their exclusive watch faces. There is a total of six themes in the Galaxy Wearable library to count. This time, the company made sure it should launch themes for all users with different needs. You can see various watch faces in the store for different usage like a show-off, health information, lots of widgets, color combinations, and even GPS-supported dials.
Apart from these exclusive faces, third-party developers have released their latest creativities in the Play Store. You can download these dials for your new smartwatch and also store them as favorite themes. For you, these are the best watch faces for Galaxy Watch 5 & Watch 5 Pro.
1. Microsoft Outlook
Do you know Microsoft Outlook is now available for Galaxy Watch 4 & Watch 5 watches? It is also part of Samsung and now coming pre-installed on major watches. Along with the official app, you can also use watch face by Microsoft to make it easy for you. Of course, we all know Outlook let us get our all emails and reply to them. The dial also does the same to alert you about incoming emails. It has a neat and clean design with a couple of color options. The users who always receive emails would consider Microsoft Outlook. To get a dial, you have to download the Outlook app, and the dial will automatically add to the library.
Download: Microsoft Outlook
2. Info Board
Definitely, one of the best themes from Samsung for its users. It stores almost all essential information on the first screen. In the middle, you can show information from major functions, and on the outer side, you can put five complications. With a such number of complications, there is room to store lots of data. Also below the side, you will get two circles to see quick info like exercises or heart rate, etc. The Info Board is true to its name without losing its charm.
Get: Available in Galaxy Wearable app
3. Flower Garden
Samsung doesn't offer too many live watch faces for its Galaxy Watches. Last year, it launched its first live wallpaper for smartwatches. This year too, it has released a new Flower Garden for specific users. Many users like to show off their digital watches, and Flower Garden is the best among them. It comes with four different garden themes and a cute butterfly into it. All themes share unique designs and colors to match your style. The only drawback of the Flower Garden is it doesn't offer any information area on the front display.
Get: Available in Galaxy Wearable app
4. Marine Commander
In third-party dials, I have personally admired the Marine Commander Watch Face. It takes all the space on the main screen to show its true color. It looks so elegant on Galaxy Watch 5 & Watch 5 Pro that you want to replace it with any other themes. Marine Commander offers different colors, widgets, animation settings, and hardware acceleration settings. You can add four widgets on the screen, and change its clock hands. It also has a premium mode, but all you need is available in the free version.
Download: Marine Commander
5. Delta Watch Face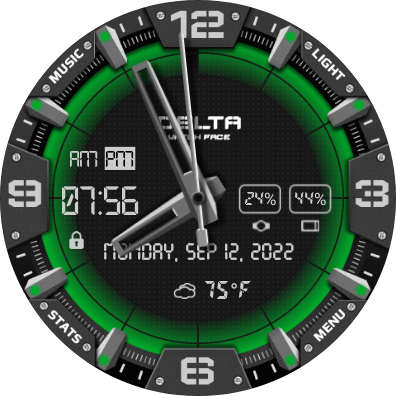 It provides a sporty look to the smartwatch with its dynamic look. It is rich in information and gives plenty of options to customize your main display. You can change the text color, clock hand color, background color, and other designs. It has every complication to set on the first screen. It also offers a premium setup with a price, though you can have everything in the free version. To promote developers, you can buy the premium version. The Delta Watch Face is available in Play Store.
Download: Delta Watch Face
6. Live Wallpaper
The Live Wallpaper theme allows you to set live wallpaper on the Galaxy Watch 5 & Watch 5 Pro. Flower Garden doesn't allow you to set your favorite video file or gif to the dial. It is where Live Wallpaper comes to rescue you. You choose a small portion of your video or GIF file to add to the front screen. It could be a movie scene, a funny moment, a scene from your favorite song, or any GIFs, add anything to the dial. It is available to install in the Galaxy Wearable app.
Get: Available in Galaxy Wearable app
These are the best watch faces for Galaxy Watch 5 & Watch 5 Pro. Some of them are available in Play Store and some are in the Galaxy Wearable app. For Play Store, I have provided links to download. If you want to suggest more watch faces, then use the comment box below.