The big jump from Tizen OS to Wear OS unlocked many apps & watch faces for Galaxy Watch 4. In the first half, the watch has received premium apps like YouTube Music, Google Maps, Spotify Offline Music, and Google Pay. Further, the Galaxy Watch 4 & Watch 4 Classic can use a wide variety of watch faces from the Play Store. Samsung has plenty of themes for the smartwatch, but with Play Store, you can set faces from other companies including Fossil & Mobvoi. All the supported themes from Google Play Store can be used on your Wear OS 3-powered Samsung smartwatch.
The watch faces make or break the legacy of your watch. It is the first screen that people will see when they look at your wrist. This is why you must learn how to customize or change watch faces for the watch. All the faces come with lots of information, background, fonts, and color choices. Furthermore, you can create your own watch faces in the studio and set it, but we are not talking about that part here. In this article, I will show you how to download, change & customize watch faces on the new Galaxy Watch 4 & Watch 4 Classic.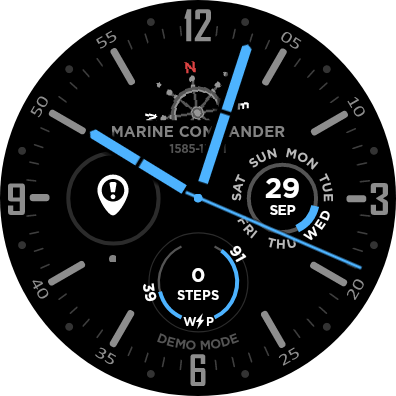 Download Watch Face on Galaxy Watch 4
1. Open Google Play Store
The Play Store will be available on your paired Android smartphone. We haven't listed Apple App Store or Huawei App Gallery, because those platforms have been sorted out from Galaxy Watch 4. You can only use Watch 4 with an Android smartphone. Open Play Store on your phone or from the watch.
1-i. Open Galaxy Wearable app
Play Store is not the only place to find new dials. You can also use the Galaxy Wearable app to get new faces, especially from Samsung officials.
2. Go to the Watch Face section
In the Play Store or Galaxy Wearable app, head to the Watch Face section. You will be amazed to see thousands of themes waiting for you. Go through each category to search for any favorite dial.
3. Tap on Watch Face to download
Every watch face has its unique style and you can read about them on the description page. To read more about them & download them, tap on the watch face.
4. Synchronize or set the new watch face
Finally, when you have made your decision to download a new watch face, click on the Download button. Wait a while to get it installed for your watch. Once it is installed then tap on it to set on Galaxy Watch 4.
Customize watch faces on Galaxy Watch 4
You have now downloaded a new dial on your watch, but it is a small portion of the big ocean. Almost all the developers allow you to customize your own dials to show them as you like. You can change their colors, background, complications & style as per your requirements. To do that follow the below steps.
1. Open Galaxy Wearable app – Watch Face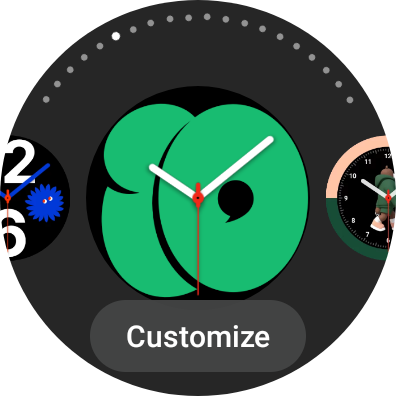 To customize the watch face, open the Galaxy Wearable app on your paired smartphone. In that, head to the Watch Face section. It is the same section as before which you have used to download & set a new one.
1-i. Stay on the main screen of your smartwatch
If you want to change or customize the theme from the watch, then stay on the main screen. The main screen is the first display of your smartwatch, and you can also go there by simply pressing the Home button.
2. Press & Hold watch face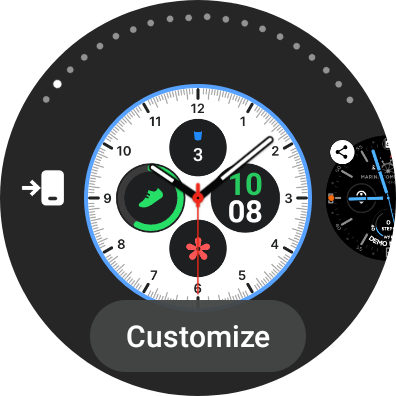 To customize the dial, press & hold it. You can do it in the Watch face section of the Galaxy Wearable app or just do it on the current watch face on the smartwatch.
3. Tap on Customize option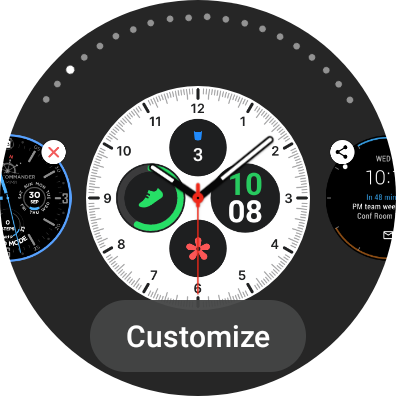 To move one step further, tap on customize option. It will open new settings for the dials, and it is the place where you can change the current look.
Now we will step by step look at what we can change in the watch face. For that, I am using Samsung's official Analog Dashboard watch face. It is available in the My watch faces section in the Galaxy Wearable app.
1. Indexes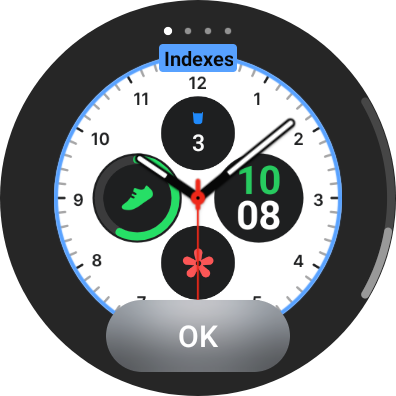 In the Index option, you can change numbers & minutes in other formats. It supports a couple of indexes, so you can choose the best one for you.
2. Background color
It changes the theme color of your chosen dial. The dials support Black, White, Blue, Green dials, and you can set whatever you want.
3. Complication color
Note that, the complication color is different from the dial color or background color. In this setting, you can change the colors of the complication which you have selected.
4. Complication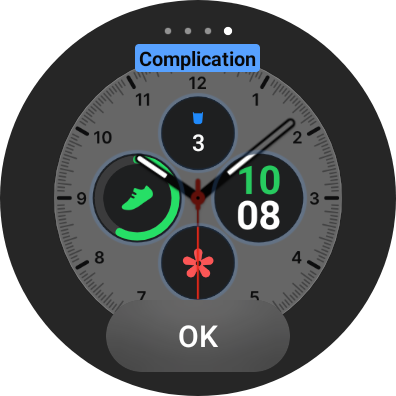 It might be the most essential part of any dials. In this setting, you can choose any complication which you need most. By default, Samsung has provided its complications, but you can choose your most needy one.
You set complications like exercises, messages, weather, women's health tool, battery, Bixby, phone, recent apps, blood oxygen, barometer, breathe, heart rate, daily activity, and so on. Every watch faces have a different number of complications like Analog Dashboard has four complications.
Finally, you are ready to show your best watch face to your friend. Some themes will consume more battery and some will create lags, so choose them wisely. Also, to premium watch faces or ad-supported faces, you have to pay to unlock all features or ad-free versions.