After months of waiting Xiaomi's fitness trackers are now receiving the latest firmware versions with the new features. The Mi Band 3 & Mi Band 4 are getting new updates that now allows them to unlock your laptops. Since the November, it is the first time both trackers have received some changes. Mi Band 4 gets new updates every month to fix some issues but not received any new function. Now, Mi Band 4 has jumped to V1.0.9.42 version from the previous V1.0.9.34 firmware. As some users noticed there is a minor improvement in the step counter & the company has taken care of ghost steps.
The new function that allows you to use your band to unlock laptop is quite useful. It supports Windows 10 running laptops and currently available for Indian users. Previously, you have to install a third-party side app on paired smartphones to unlock the laptop but now Xiaomi has loaded the support for the Mi Bands. It makes easy to unlock your computer & this way you can also secure your laptop.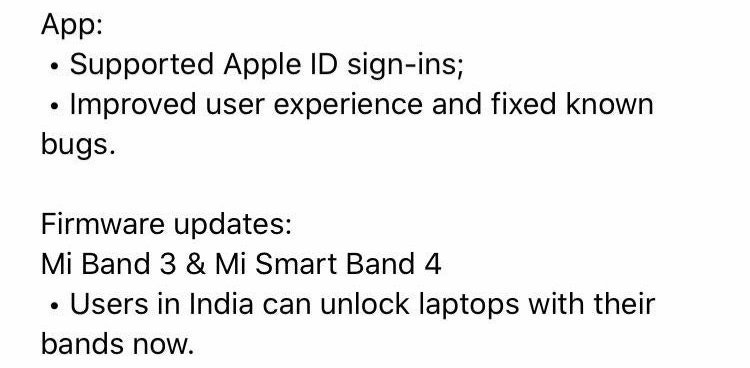 Mi Fit app is now upgraded to 4.0.17 app version & it now supports Apple ID Sign-ins. The app has also killed known bugs to improve the user experience. Note that to install the new update on Mi Band 3 & Mi Band 4, first you have to update Mi Fit app to 4.0.17. Once you install a new Mi Fit update, then automatically your Mi Band 3 or 4 starts the update.