In the latest Galaxy Wearable app update, Samsung has introduced all-new Galaxy Watch 5 themes to the older Galaxy Watch 4 series. At the special launch event, the company introduced some new dials for the new watches. After two weeks of enjoying exclusivity, these dials are now available for previous models. Users will notice new watch faces in the Galaxy Wearable app once they update it from the Play Store or Galaxy Store.
In the new dials, all eyes are on the stunning Flower Garden face. It gives freshness to the smartwatch in a natural look. Sadly, the new Flower Garden watch face is only for showing off, and you can't add complications and other information to it.
The new Flower Garden only allows you to change the color with three more options. Each color option has a unique design, so you can try them. Most of the dials have landed in the Graphical section. It has Gradient number, Pebbles, Color Pie, and Fresh themes in the category.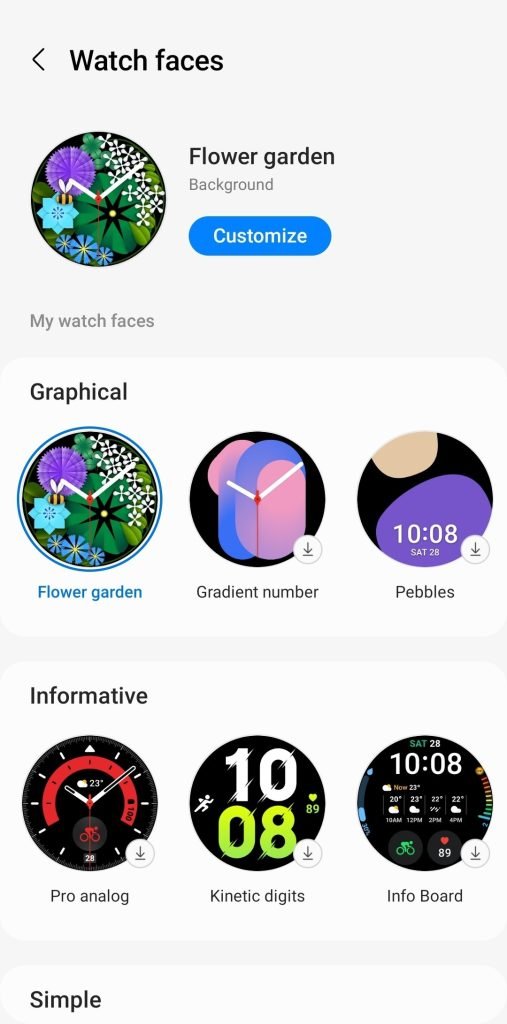 In the Informative section, there are Pro analog and Kinetic digits which one is shown off in the launching event. There is a slight change in the UI design that has been borrowed from Galaxy Watch 5 Pro. You will notice it when you update the current plugin.
The latest app version 2.2.11.22081151 for Galaxy Wearable is now available to install. In the next few weeks, Samsung might release a firmware update for Galaxy Watch 4 series that could bring some features to it.