When a user buys a new smartwatch, then the first thing he/she notices is its cool-looking watch face. The default theme, which we have seen in the event or the trailer is always good for a few initial days. Later, we get bored with it and start searching for other options. In a Galaxy Watch case, Tizen Store has plenty of cool-looking, informational & customizable watch faces. The Galaxy Watch 4 & Watch 4 Classic left the home for the Wear OS 3 platform, the old home with plenty of new possibilities.
The Play Store also includes thousands of dials for the Watch 3, plus you can use dials from other watch companies like Mobvoi, Misfit & others. For the promo, Samsung creates some fresh themes for smartwatches, and it applies to Galaxy Watch 4 duo. Both come with a couple of innovative and fresh-looking dials. In the watch face section of the Galaxy Wearable app, you can get all of them. Apart from that, if you need more third-party watch faces for Galaxy Watch 4, then look at the below list.
Best Watch faces for Galaxy Watch 4
1. Marine Commander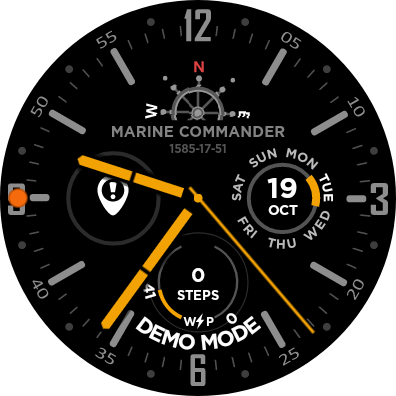 It is the first watch face in the Play Store that catches my eyes. The Marine Commander by Bosenko looks stunning on the display. It comes in a Black & Blue color combination that you can change with Orange, Black, Gray, Clean Blue, Clean Orange, Clean Green & or custom colors. In the customization, you can set colors clock hands, notifications, hourly chime, screen timeout, ambient mode, animation, hardware acceleration, and unlock premium features. In the premium model, it only removes Demo Mode words from the main screen.
Download: Marine Commander
2. Microsoft Outlook
The Outlook app is available for Tizen OS & Wear OS, but the official watch face is only available for the latter. Initially, it wasn't ready for the Watch 4 series, but now it supports it. It has connected with the official app and synchronizes all the incoming emails. In the simple dial, it will show emails with unread numbers. In the customization, you can change the background color and accent color or calendar color. It shows time, emails, calendar, and tick to show the exact time on the main display.
Download: Outlook
3. Analog Dashboard
I am highly impressed with this year's new dials by Samsung. In that, the new Analog Dashboard is what we need for a perfect theme. It has everything you need on the first screen. It offers some mind-blowing premade designs to save your time. Still, you can make your own recipe from Customize option. Choose wide varieties of Indexes, Background colors, and Complication colors, select complications up to 4, and choose multiple shortcuts from all the essential features. To set the Analog Dashboard, tap & hold your current theme and choose it by swiping among downloaded faces.
Download: Pre-installed
4. TicWatch Gem
It is the benefit to run your watch on Wear OS 3. It will not stop you from downloading third-party apps even if it is meant for other smartwatches. The TicWatch Gem is created for Mobvoi's TicWatch series. It also perfectly fits on Samsung watches. It is beautifully crafted and you can set it in sapphire or ruby colors. In the customization, there is no option available. On the main screen, you will get only the time, date, day & the remaining battery. To give premium look, install the TicWatch Gem.
Download: TicWatch Gem
5. Feisar Watch Face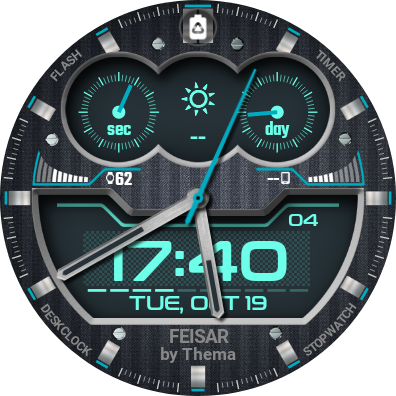 Now we are heading to the interactive dials and Feisar is one of them. Feisar shows eight different data on the main screen, and it looks digital. It is free to download but not any less compared to premium faces. On the above side, it shows customizable data, and below side, you can see the current time. In the customization setting, it has color options for Elements, hands, text, background, and more. To set widgets and shortcuts, you have to unlock premium content.
Download: Feisar
6. Ultra Watch Face
It is another informative dial that shows everything on the main screen. It comes with a black background and red hands, though you can change them from the settings. It shows real-time weather information, battery indicator, phone battery, app shortcuts, widgets, and custom themes. Most of the features have hidden behind the paywall, and to unlock them, you have to purchase a premium version. To grab all the information on the main display, install the Ultra Watch Face on Galaxy Watch 4.
Download: Ultra
7. Watch Face Valiant
The number 7 dial is Watch Face Valiant, which comes with plenty of choices. It has a tremendous display, and it will look very stunning on your watch. In the free version, it gives a black & red combination and for more, you have to purchase a premium version. The index, elements, hands, shortcuts, widgets, and every other detail are presented in a well-format. With two customizable options on the below side, you have only essential info on the screen.
Download: Valiant
8. Facer
We are moving to the whole library of smartwatch themes. We start with the Facer library, the ultimate source for any type of dial. It includes the watch faces from every category that you love to see on your Watch 4. In the sample, you get three kinds of dials, and those are too incredible. To get lots more, tap three times on the main screen. It will open a huge library of watch faces to set. To get the top-notch dials, you have to pay for their premium subscription.
Download: Facer
9. Watch Face app – MR Time
It is another library dedicated to the watch faces. The app claims to have over 1 million themes to set, but we never tried to count them. Some of them caught our eyes, and we didn't like some of them. The good part is, that most of the dials are free of cost and support Galaxy Watch 4. For easy search, use the official app for MR Time, and then set it on the smartwatches. It was previously worked with Tizen OS-based Galaxy Watch Active 2 & Watch 3, and now came to the Watch 4 series.
Download: MR Time
10. PhotoWear Photo Watch Face
In 2021, almost all the smartwatches & fitness trackers offer custom watch faces or photo wear dials. The Wear OS has plenty of such apps, and even Samsung offers custom themes. In this dial, you can set your own background or images. The famous PhotoWear Photo Watch Face app allows you to do that. It shows up to 9 images on the main screen that Samsung lacks. Set the dial, open settings, choose images from Gallary, and upload them. The only drawback of the custom themes is it doesn't support complications. If you are ok with it, then get the app from Play Store.
Download: PhotoWear
11. Info Brick
Samsung has recently introduced Info Brick watch faces to the smartwatch. With the huge software update, Samsung brings plenty of options. It will show you the necessary information with addictive design and color options. The default Blue color makes it stunning, though you can change the colors. On the Below side, it shows walking distance, burned calories, and current time, in the customized circles, you can show preferred complications.
12. My Photo+
It is the perfect answer from Samsung to the developers of custom faces. The new My Photo+ watch face allows users to customize the dial and set any background image as they want. Before My Photo+ dial, users have to rely on a third-party watch face to set their own wallpaper. I am not saying those dials are any less in quality, though some of them were power-hungry. With the official dial, it will offer all the features without losing any quality standards. You can set the normal pictures as well as any GIF files.
These are some top-quality watch faces for Galaxy Watch 4. The official dials with these Wear OS dials will make your library even rich. You can even change your main screen daily to show its true color. All the listed faces are free of cost, but some of them will ask you for extra money to unlock premium content.