Update: Microsoft has launched a dedicated Outlook app for all Samsung smartwatches. This month on October 7th, Microsoft announced support for Galaxy wearables, where you could receive and reply to the incoming Outlook emails. Now Microsoft Outlook is a dedicated app and available in Galaxy Store with all the original features. The app is currently landed in the US and in the near future it will release in all other countries. You can download it from Samsung Galaxy Store through a paired smartphone or from the Galaxy or Gear smartwatch.
As promised, Microsoft has announced Outlook support for Samsung Gear & Galaxy watches, including new Galaxy Watch Active & Watch Active 2. In the new update for Outlook for Android, Microsoft released support for Samsung wearables. Now users can get emails from their Outlook account right to their smartwatches. Users can view the message and act on them accordingly. Before the update, Samsung smartwatch & other wearable users were enabled to get the notifications from any Microsoft apps, but now Outlook is exceptional to it. It will hit alert on the Galaxy Watch when there is a new email from the Outlook.
Microsoft Outlook on Galaxy Watch
In the latest update, Microsoft has made some changes to the look of messages that will show more details, which are essential for the receivers. It will show the time & the location in the notification when someone sends you a message regarding appointment or meetings.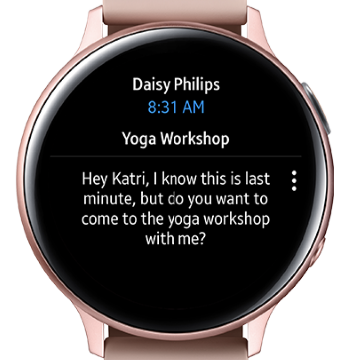 You can see from where the sender has sent the message & on which time. Samsung wearable users may not notice these changes because it is the first time Outlook has come to these Galaxy watches.
The new version brings the option to create appointments & meetings on group calendars whenever they need it. Microsoft has increased the security level of the Outlook for Android by adding the S/MIME layer. It enables users to sign digitally & encrypt their emails. The update has now rolled out in Google Play Store.