After the launch of Galaxy Watch Active 2, Samsung has introduced custom watch faces for Galaxy Watches. On our watches, we know it as a My Photo+ that allows you to customize watch faces as per your requirements. Before the launch of My Photo+, it was impossible to change the themes as per your need expect colors. With the help of My Photo+ or custom watch faces you can use your own picture on the watch faces. You can also add your favorite outfit colors or your favorite wallpaper to the smartwatch. You can use the custom watch faces on all-new Galaxy Watch Active, Active 2 & Galaxy Watch 3 smartwatches.
We haven't sure the first generation Galaxy Watch supports it or not, though you can check it manually when I tell you how to use it. Samsung is not the first or the only company to introduce custom watch faces on its smartwatches. In the other list, Huawei has launched it on Watch GT 2 & GT 2e, Honor on MagicWatch 2, Huami on Amazfit GTR, GTS, T-Rex & Verge 2, and Apple on new Apple Watches. In the custom watch faces or simply My Photo+ you can change colors and images as per the occasion. Here, I will guide how to use custom watch faces on Galaxy Watch 3, Galaxy Watch Active Active & Active 2 watches.
Set custom watch faces on Galaxy Watch
1. Open Galaxy Wearable app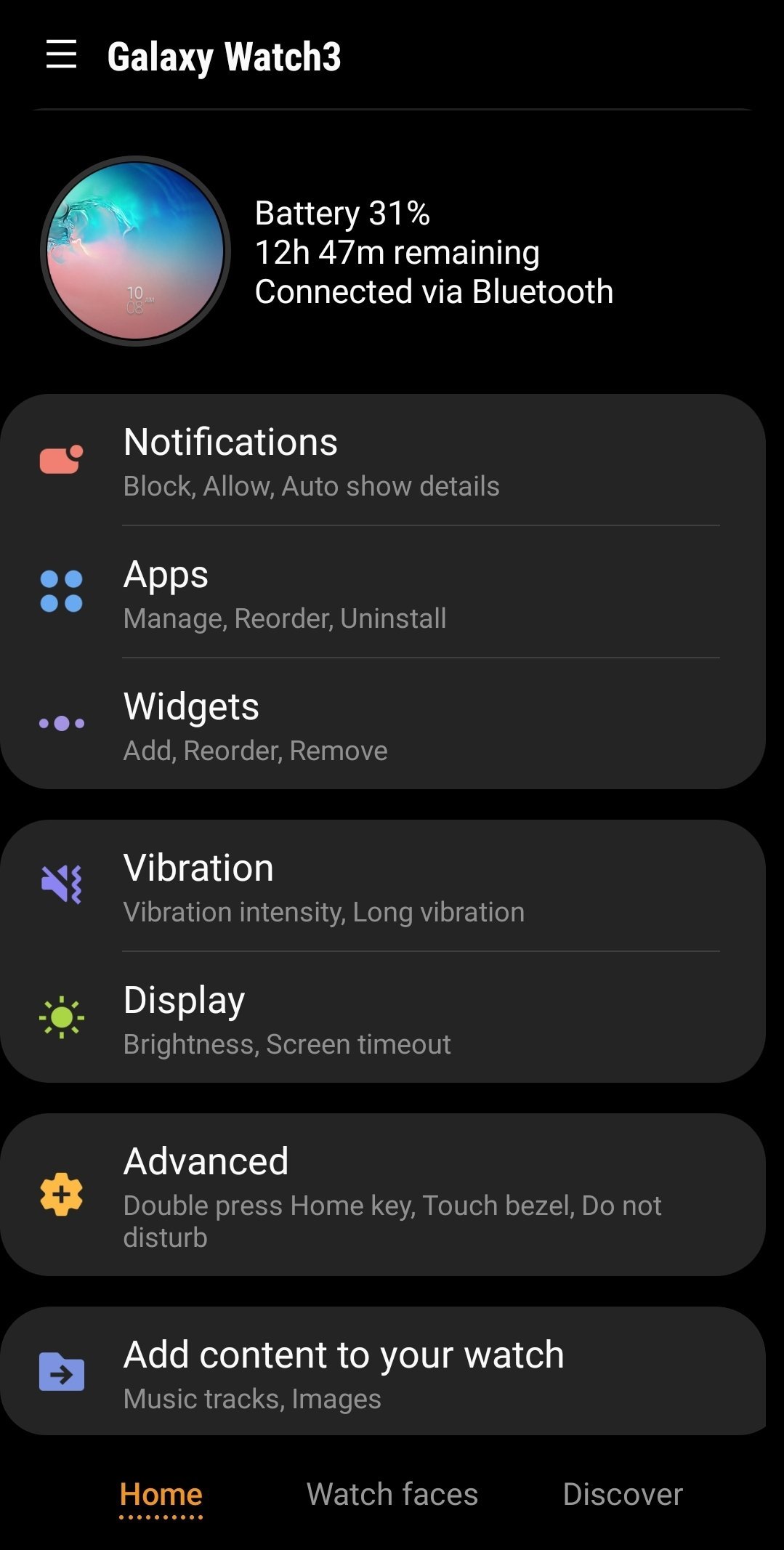 Yes, the app must be installed on your paired smartphone. Open it.
2. Tap on Watch faces
The below side in the Wearable app, you will see three tabs, Home, Watch faces & Discover. Here, click on the Watch faces option.
3. Here scroll down & go to the Wallpaper section
It is the library of biggest watch faces for your Galaxy Watch 3, Galaxy Watch Active & Active watches. Now scroll down to go to Wallpaper section or tap or Time-focused option.
4. Here is My Photo+ watch face
In the Wallpaper section, you will see My Photo+, My Style & Peak Time watch faces. These three dials let you customize the main screen of watches.
5. Click on the dial & open it
We need My Photo+ dial to add our custom picture so tap on it and open it.
6. Here you will see Customize option. Tap on it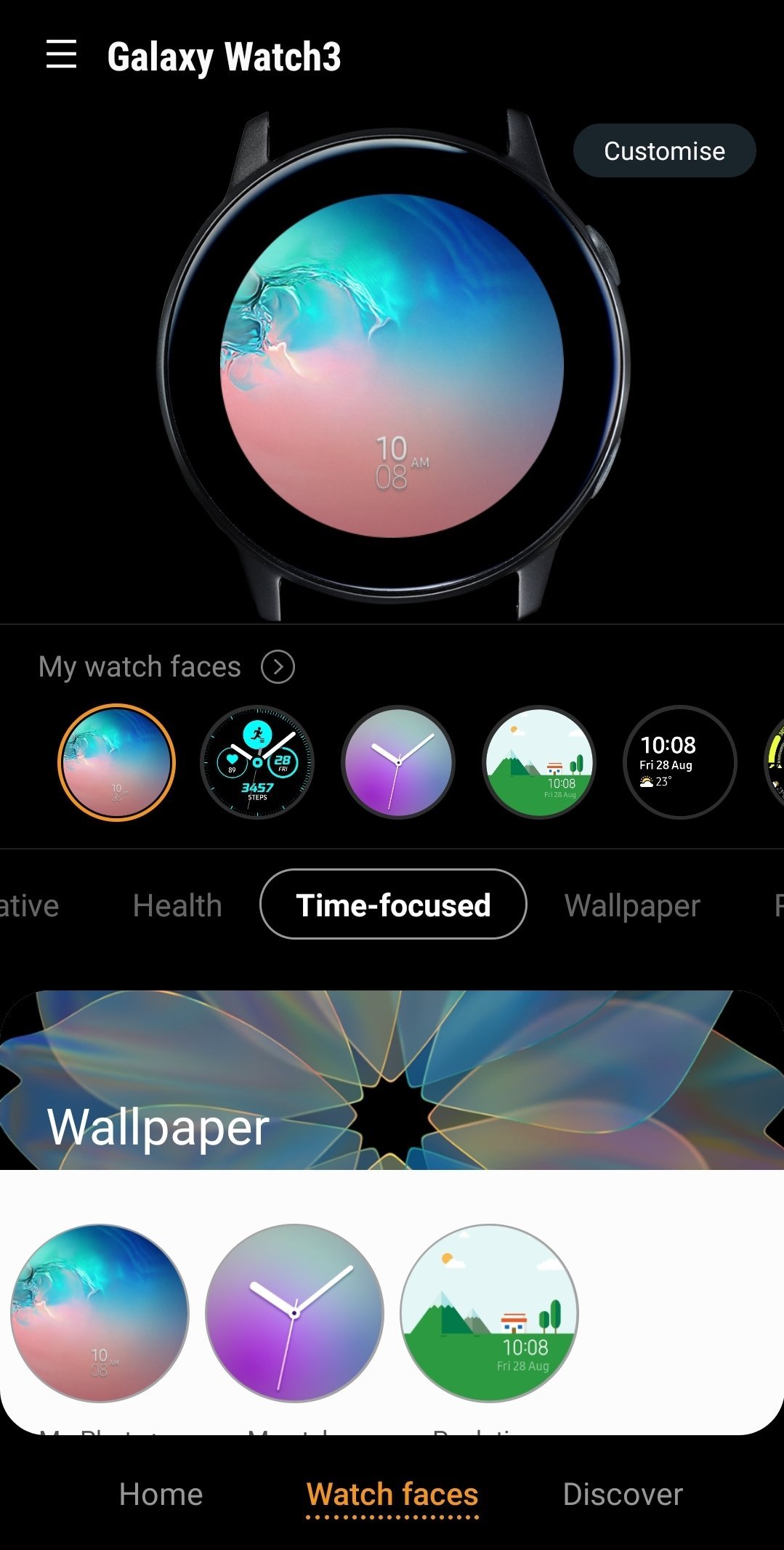 Once you choose My Photo+, you will see the Customize option. In this option, you will get all the necessary tools to move ahead.
7. Now you will see Background
The first option in Customize is Background. This is the area that lets you select your favorite image to put on the front display.
8. In the Background option, choose the Camera or Gallery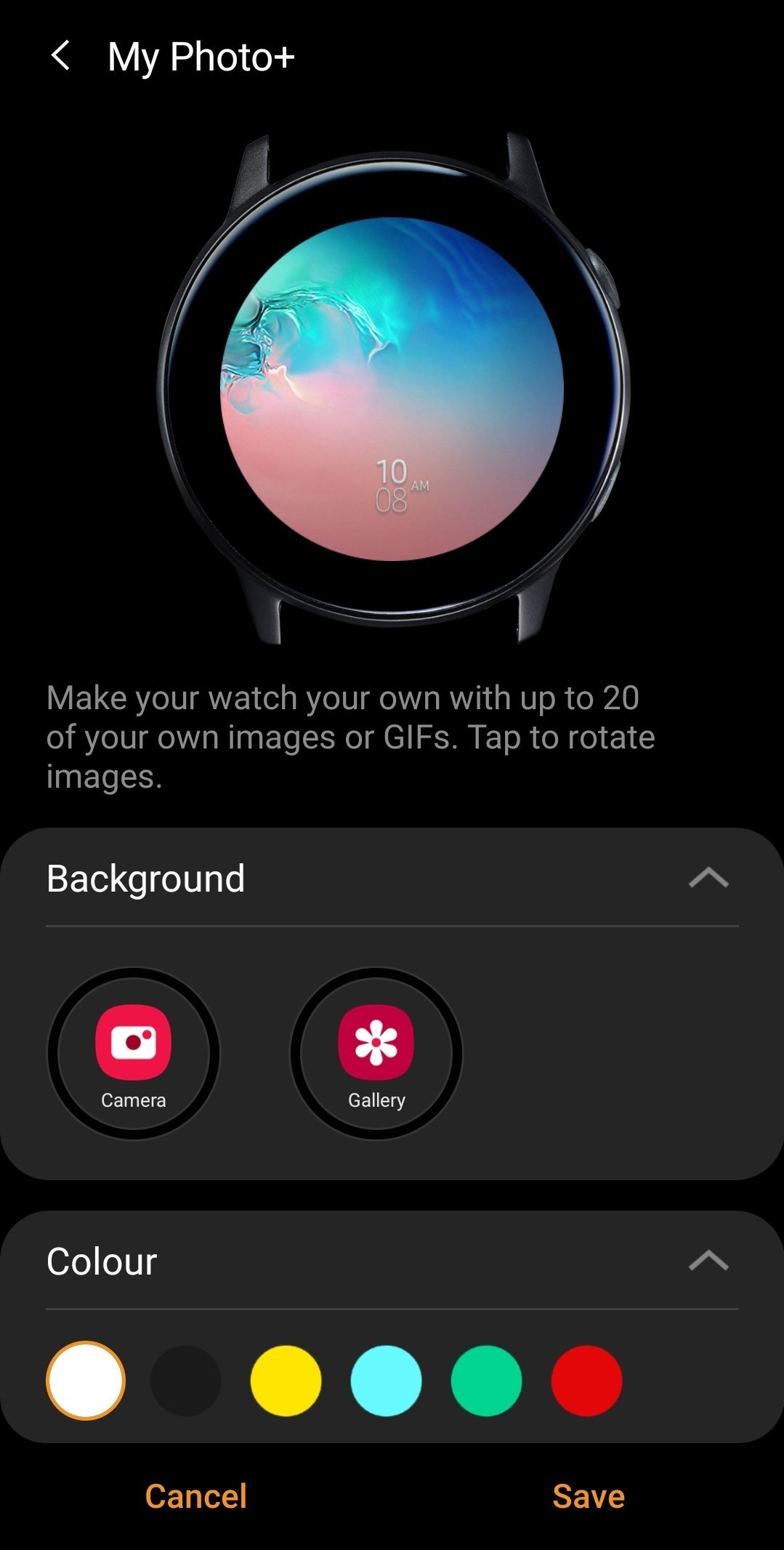 In the Background, you will see the Camera & Gallery option. When you tap on Camera option you can capture the live image and set it. In the Gallery option, you can choose the image from your phone's Gallery.
9. Tap on any option to add image
After you capture the image or choosing from Gallery, move the circle on the exact place that you need to set. After that click on Save.
10. Now Choose Color & Font
In the next step, choose the custom color for the background or as per your need. You can also set the Font as Large or Small.
11. Finally, click on Save
Now, after all this, you can save the watch face on your Galaxy Watch 3, Galaxy Watch Active & Active 2 smartwatches.
When you click on Save, the Wearable app will start to synchronize the watch face with your smartwatch. The sync process will take some time so wait a while. To sync the dial you the watch doesn't require internet connection though put your watch near to the phone. Now, you are ready to show your custom watch faces on Galaxy Watch 3, Active & Active 2 watches.