Yesterday, Samsung announced the Galaxy Fold in India for the price of Rs. 1,64,999. It makes the Galaxy Fold one of the most expensive devices in the country. The Galaxy Fold in India will go on pre-order from October 4 & it will dispatch on October 20th. Now after India, Samsung has announced Fold for the middle east. The company has sent the emails to pre-registered users that the Galaxy Fold will go on pre-order from October 6. The pre-orders will start in five Gulf countries, UAE, Oman, Qatar, Bahrain & Kuwait.
The email doesn't reveal the price for the Galaxy Fold in these countries through the official page has revealed it will charge SGD200 for premium service. We think Samsung will unveil the price & availability in the coming days as October 6 is near. Last month, Samsung launched the device in South Korea, the US & major European countries. This month, the company will launch it in India, UAE & Australia. The pre-registration for the Fold in Australia has already started so that the company will announce the launch date in Australia in the next few days.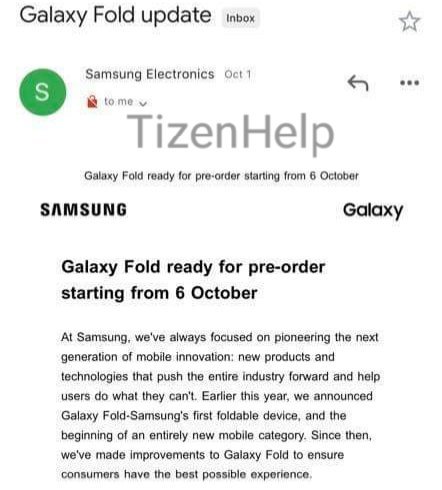 Pre-registration has started in these Gulf countries and you can register it on Samsung's official website for UAE.
In the next phase, Samsung will launch the Galaxy Fold in more countries. In the last week of August, the pre-registrations were started in China but the company never revealed any plan to launch it there. There are many countries which are waiting for the Galaxy Fold. We also heard the rumors claims that the next Galaxy Fold 2 would land all across the world.