Apple Watches are always great to deal with the customers as they come with various innovative features and advanced technology. They perform as your perfect workout partner and enable you to monitor your health conditions accurately with the help of its comprehensive fitness tracker. The latest Apple Watch Series 4 & Series 5 have equipped with ECG features that let you monitor your heart health effectively and detects if any concern is there. You can easily monitor your heart rate and get the graph of heart rates on your wrist. The previous Apple Watch Series 3 & Series 2 are beast in the wearable segments which are still the best options for newbies.
These products not only enhance your health monitoring but also improve your connectivity. Apple's latest technology and innovative design make them unique products among the competitive wearables market. You can also explore plenty of other things from your wrist and experience digital advancement. It is the best alternative which enables you to perform several things remotely, here we will take the example of a camera.
Yes, you can operate the camera of your iPhone from your Apple Watch and capture the perfect shot with much comfort. Here we will see the best camera apps for Apple Watches of all series. You can use these best camera apps on Apple Watch Series 5, Series 4, Watch Series 3 & previous models.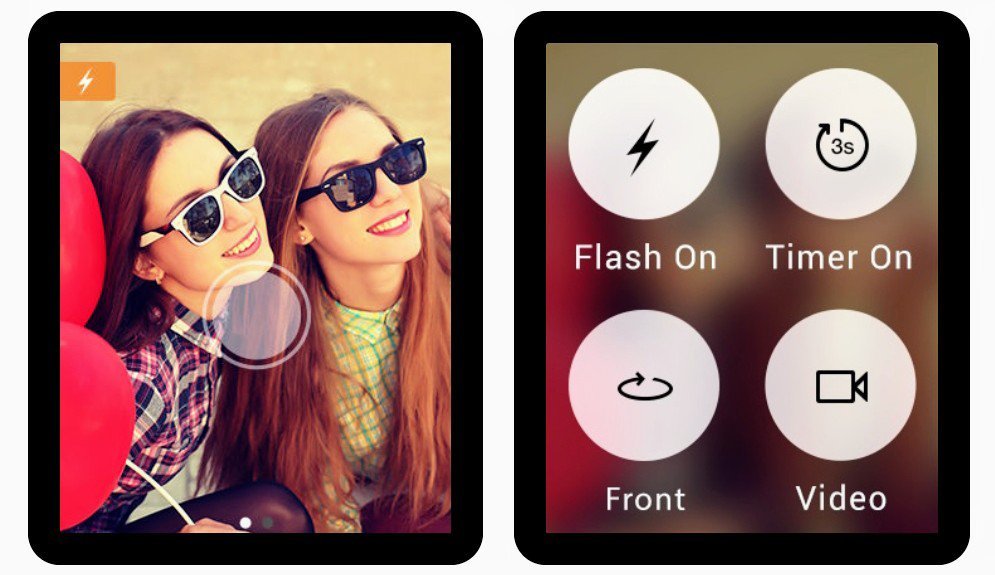 1. Camera Plus
Camera Plus app on your Apple Watch lets you capture photos and record videos through your wrist. It takes the experience to advanced level as the app ensures your access to several features such as switch between front or back camera, flash, countdown timer, and instant preview after capture as well as a live preview while capturing moments.
In short, the app gives you the entire control of your iPhone camera and lets you take shots smoothly, you will also be provided with an option to record videos in 480p and 720p size formats. Other important features include HDR, photo filters, and photo captions to apply texts on photos.
2. Halide
This is the most renowned and award-winning app that comes with high-end tools and a beautiful user interface. Halide is an incredible app that comes with professional tools like focus peaking, histograms, adaptive level grid, and manual depth capture, etc. It offers a custom-designed user interface for iPhone and later which can be used with one hand.
Halide comes with full manual control features including shutter speed, ISO, and white balance. The app launched with intelligent automatic and manual mode. It also supports the RAW capture as well as lets you have the instant preview of your last few shots.
3. Pro Camera
Pro Camera app lets you exploit your iPhone camera and get full advantages of it. The app comes with an intuitive user interface and advanced features that enable you to capture better pictures. With the help of this app, you can adjust the focus and exposure intuitively and precisely from your wrist.
As the name of the app suggests it is compatible that gives you control that resembles the advanced DSLR camera and comes with semi-automatic and full manual control features. Pro camera app not only equips you with advanced control but also lets you capture incredible portrait pictures as well as record HD and 4K videos through your wrist.
These are the best camera apps for Apple Watches, all the apps are full of advanced and professional features. These apps will enhance your access to your phone camera and enable you to record your moments with the professional tools. You can switch to the main and selfie camera as well as a set timer for the perfect shot and explore more activities without practically using your phone.