In the latest update for Galaxy Wearable and Galaxy Watch4 Manager, Samsung has broken the apps. The updates for both essential apps have gone wrong, and now, Galaxy Wearable stopped working. Two days ago, the company has released a 2.2.49.22062261 update for Galaxy Wearable app. Unfortunately, the new version went wrong, and now it is not responding. The same issue has occurred for beta users, but later Samsung fixed it by releasing new version.
Now, after the plugin, the users who have not participated in the beta program are raising an issue with the Galaxy Wearable app. Many users on social media and Samsung forum have complained that the app has now stopped working.
We have also experienced it with our phone, and still, the pairing app is not responding. Samsung has acknowledged the issue with the Watch 4 Manager app and sent the latest version 2.2.11.22.063011 to tackle the problem. The issue with Galaxy Wearable is that it is not allowing users to open the app to make changes as mentioned by the company.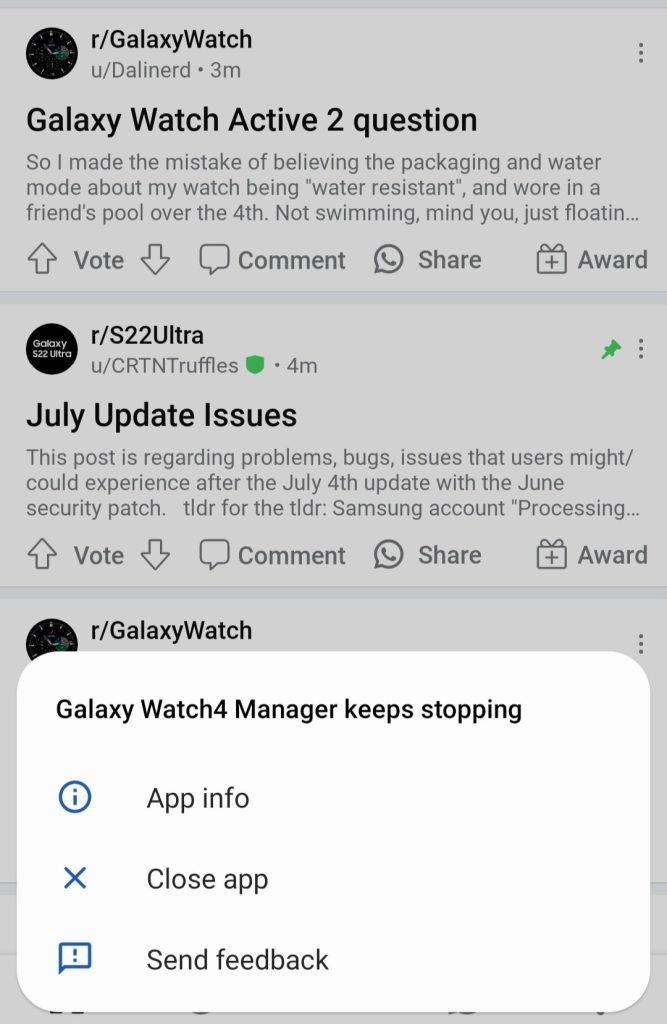 Here is what Galaxy Wearable App Manager has said about the latest issue (Machine Translated).
Hello, customer.
We apologize for the inconvenience.
Not allowing the "Nearby Devices" permission was a problem.
Please run the Galaxy Wearable app and allow "Nearby Devices" permission before use.
We will fix the problem and update it as soon as possible.
If any other problem occurs, please send the log so we can quickly analyze the cause of the problem.
Samsung still has to release a fixed update for the Galaxy Wearable app in other countries where it hasn't conducted a beta program. It may send a new version when they solved the problem.