At the launch of the Google Wallet app for Wear OS, the company accidentally revealed a YouTube app for Wear OS. The revealed images on the Google blog talks more about the app availability, but no one knows for sure. Google has launched many of its apps for Wear OS, and there are many yet to come. YouTube is also not available for the smartwatch, but that doesn't mean Google will not release it in the future.
The user on Reddit first spotted the app on the official Google Blog. The screenshots are actually shared to show the Wallet app, but it also revealed a video streaming app. It will be a great surprise for users if the company makes it available for the Wear OS platform.
When we look at the picture for the first time, then we thought it could be YouTube Music. After looking closely, we also found out it is the official YouTube app in the list of Wear OS apps. It may not be for all users, but Google may be working on its availability for smartwatches.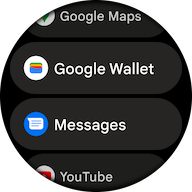 Some Wear OS users may not want the YouTube app on their smartwatches. Still, many users like to watch videos on their watches. For now, users watch Youtube videos using browsers like Samsung Internet Browser.
In a Play Store for Wear OS, Google has launched Google Maps, Google Messages, YouTube Music, Google Fit, Google Contacts, Google Assistant, GBoard, Google Wallet, and Google Clock. We may see more apps from Google for Wear OS in the future.