In a busy life, we are always stressed out and it impacts our work life as well as personal life. It is common these days for all of us to get some stress, but in the time we have control over it. With lots of medicines, exercises like Yoga, and with the help of devices, we can lower our stress. Now, you don't have to purchase big heavy or expensive equipment to deal with your stress level. You can do fine with your smartwatch or on an activity tracker. Exact I don't know, which wearable is the first one to offer this service, but now most of the smartwatches & smart bands offer it. The new Mi Smart Band 5 & Band 6 can also measure your stress level and offers you breathing exercises if it is more than normal.
The latest Fitbit Sense & Versa 3 has a new feature, and the company calls it Stress Management. There is also a medical team to help you to stay calm. You will not get such treatment on the Mi Bands. It has a sensor to measure your stress level, and then give you breathing exercises to reduce it. It gives you a number from 1 to 100, where one is low and the 100 is very high. When you get your high score, then you can start breathing and perform exercises. I haven't compared this feature with Galaxy Watch 4 or Apple Watch Series 7, but you can find it useful. For your help, I will guide you on how to measure stress & breathing on Mi Band series.
Stress & Breathing on Mi Band
1. Turn on the main screen on Mi Band 5 or 6
The Stress & breathing features are the part of Mi Band 5 & Band 6. You don't need to open the Mi Fit app. Both the features have been pre-installed on the fitness band.
2. Scroll Down & tap on Stress
Scroll down the main screen, and you will see the stress option. Tap on it to start measuring your score.
3. Now, click on the below button
In the stress menu, you will see the button on the below side. The button looks like Reload, and by clicking on it, the measurement will start.
4. Hold still & don't move
Once you start tracking your stress, don't move your wrist. Stand still until it finishes the measurement. It will take nearly 30 seconds to give the score.
5. You will see the stress level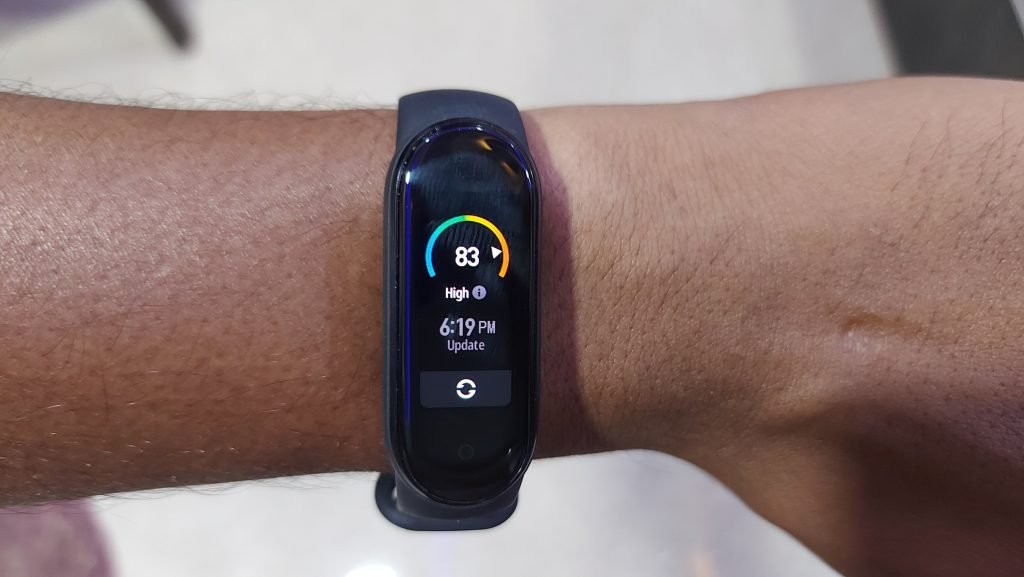 After finishing it, Mi Band will give you the final score of your stress level. It identifies stress levels at a low, moderate, and high level, so you could work on them.
6. Now open Breathing
In the Stress menu, you have found out your stress level. Now, you have to work on it, so you could reduce it. The Breathing menu is below the Stress option, open it.
7. In the menu, click on the Right sign
In the Breathing option, you will see the Right sign, tap on it to start the exercise.
8. Perform breathing for one minute
Now, to reduce your stress, you have to start breathing exercises for one minute. You have to inhale & exhale for one minute.
9. Again, check your Stress score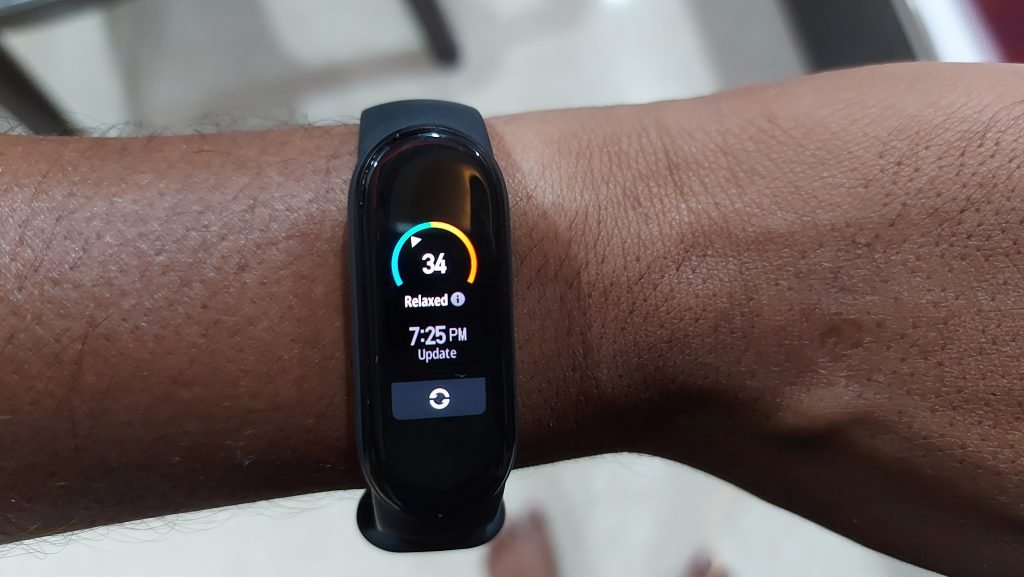 In the end, again check your stress level, and see the benefit of breathing. This time you will surely find out a lower number and this is a good sign.
Xiaomi says the Stress & Breathing functions are only for reference, do not take any other action based on this result. It is a really good option for many users, including me. I always check my stress level and performs breathing exercises based on it. Apart from it, I also go to the gym, do yoga, go on a walk, and run.