Alright, this year's Galaxy Watch is in the market and received by many users. It is packed with so many features that you need in every category. It has a better screen, accurate health features, Wi-Fi & internet connectivity, and a huge storage space. Still, if you download some more apps, then you can make your Galaxy Watch 6 or Watch 6 Classic even better. Yes, we know that the Galaxy Watch 6 duo supports Wear OS, which gives access to a whole new world of apps.
To enhance the usage of Galaxy Watch 6, I will share with you the best apps that you need. After downloading them, you can do many things with your watch. So without any further delay, let's look at those apps.
1. WhatsApp Messenger
No doubt, this is the first app you are looking for. WhatsApp Messenger is so popular that you also need it on your Galaxy Watch 6. If you are using the LTE model, then you don't have to worry about the new messages. You will receive all of them here, and you can also respond to them. You can also see inside images, stickers, and emojis, and even listen to audio messages.
2. Spotify/YouTube Music
I put both Spotify & YouTube Music on the second list. Both are equally necessary if you are a music lover. Just install any of them or download both, and log in to them. The app offers thousands of new songs, podcasts, and tunes that will make your day. Further, you can download your favorite music on your watch and listen to them offline. Just note that to download songs on Galaxy Watch 6, you have to buy a premium subscription.
3. Microsoft Outlook
With Microsoft Outlook you can receive all your emails from your smartphone to your smartwatch. You can add all your emails from Gmail, Hotmail, Yahoo, or Live, and manage them from Outlook. You can also reply to those emails with text, stickers, emojis, or smart replies. To make it easy, there are many features inside the app to organize all your emails. Further, you can also switch to different email accounts from the watch itself.
4. Samsung Internet Browser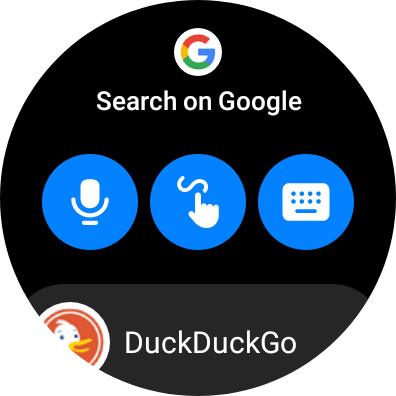 Like WhatsApp or Outlook, this is also a game-changing app for your Galaxy Watch 6. With the Samsung Internet browser, you will get a whole new experience on your smartwatch. Like a smartphone, it allows you to browse any website on a tiny screen. It means you can watch YouTube videos, open a Twitter account, go to any website, or visit your favorite social media websites. You can access any website from the app, which is really cool.
5. Strava
For users who always care about their health data, Starva is one of the best apps. Of course, there are Samsung Health, Google Fit, Komoot, and more apps. But Strava is simply the best. You can synchronize all your health data to the app, and share it with your different devices. So if you are coming from another smartwatch like Apple or Google, or you want to switch to another smartwatch in the future, then you will simply get all your history and data on your new device. It also offers a wide range of workout modes with essential tools to improve your fitness.
These are the best apps that I wanted to share with you. If you want to suggest more useful apps, then you can share them in the comment box.