The main drawback of today's smartwatches is that they are more reliable on mobile devices. We have to connect our smartwatch with the smartphone to use most of the features. Now, more companies are making sure their premium watches don't depend on mobiles and instead run independently. This year, Apple has created Apple Watch Series 5 with some changes, like separate App Store, exclusive apps for watch and eSIM support. Xiaomi is also walking on the same path by creating a new Mi Watch.
The new Galaxy Watch Active & Galaxy Watch Active 2 comes with power-packed functions. Both are Samsung's best premium smartwatches in 2019, and by sending regular updates, the company makes sure to keep them ahead in the competition. The new Galaxy Watch Active 2 is now well known as the best smartwatch of the year, makes it a real competitor to Apple Watches, Fitbit Versa 2, Huawei Watch GT 2 & Mi Watch.
Since the launch of Galaxy Watch, Samsung has given a choice to customers to use their smartwatch without smartphones. The latter Galaxy Watch Active & Galaxy Watch Active 2 also works independently. You don't need to carry your smartphone while running, climbing a mountain or in other activities. In the tutorial, I will show step by step how to use Galaxy Watch Active & Active 2 without a smartphone. You can follow these steps if you are setting up your watch for the first time, otherwise, reset your smartwatch & follow these steps.
Use Galaxy Watch Active 2 without smartphone
1. On first screen tap on Question mark sign
When you reset the watch or setting up the first time then you will see two options – Select Language as a sign of Globe & the Question mark sign. Select your native language & click on question mark sign.
2. On the next screen, it will show you instructions. Still, you want to use without phone tap Here
It will ask you to use the wearable without Android phones. Avoid it, & tap on Here link, right below the screen.
3. Check the notice and tap Continue
On the next screen, it will alert you about what you will miss. As you know, you won't get emails, calendar & music player support. Continue if you don't want to use these features.
4. Read the terms & condition and Agree to them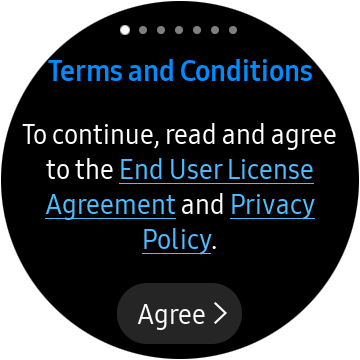 Read all the terms & conditions & Agree to them.
5. Now agree with all the requirements & tap Next
Again it will ask you for the required permissions. Accept them all.
6. Login to the Samsung account.
You can log in to the Samsung account in case you want to backup & restore your saved data. It is optional so you can also skip the step.
7. Set time zone, date & time
Set your country's time zone. Then set date & time.
8. Create a 4-digit PIN to restore or backup data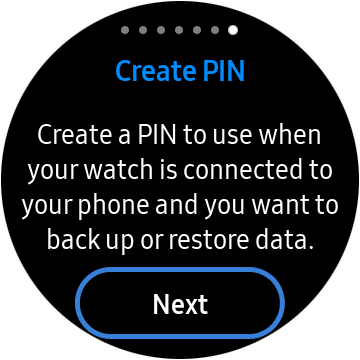 The 4-digit PIN is useful when you change your mind and want to connect with the smartphone. That time you will require this PIN. Set the PIN & remember it for future purposes.
Now you can use Galaxy Watch Active & the Active 2 Bluetooth models after 8th steps. if you have bought Galaxy Watch Active 2 LTE model then complete the below step.
For Galaxy Watch Active 2 LTE model
9. Connect to your mobile network (for Galaxy Watch Active 2)
Finally, Galaxy Watch Active 2 will ask you to connect with your mobile network. It is only for Galaxy Watch Active 2 LTE version. The Bluetooth version of Active 2 & Galaxy Watch Active doesn't have network options.
Now you have completed all the steps and ready to use your Galaxy Watch Active or Active 2 without any Android smartphones. The notifications also don't come on the watch if you are using the Bluetooth version. In case you changed your mind and want to connect with a mobile device, then go to Settings > Connections > Connect to a new phone. Here enter the 4-digit PIN & to connect with the phone.