The termination of the Telegram app for Wear OS watches was not that good. The company's sudden move shocked many smartwatch users. It is a popular social media app on smartphones, and it received the same love from smartwatches. It is a big loss for users, but on the other hand, Wear OS 3 opened the door for other apps. The collaboration of Wear OS with Galaxy Watch attracted many new users. It grabbed the attention of the world player, and now, we can enjoy quality apps on Galaxy Watch 4.
The messaging & social media segment also flourished in the past few months. The watch gets some of the best messaging and social media apps in the recent few weeks. It gives an extra option for users to stay connected with friends and family. Facebook Messenger or Whatsapp is not available on Wear OS, but their rival is slowly coming to the new platform. Today, I am going to list out the best messaging and social media apps for the Galaxy Watch 4 & Watch 4 Classic. With their help, you can send messages, receive them, make group chats, use stickers & emojis, and do lots of things.
Best Message apps
1. KakaoTalk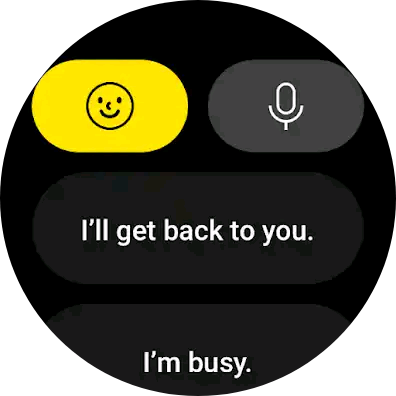 You may not have heard about the KakaoTalk app. It is very popular in South Korea and almost 95% of South Korean users use it. Although it is a complete app for the smartwatch, you have to download the companion app on a paired smartphone. It will let you view messages, delete them or reply to them. Also, see chat history, use emoticons, stickers, voice, handwriting, and images in the conversation. It is not restricted to South Korea, and you can download it in other countries.
Download: KakaoTalk
2. Line
The recent entry in the social media app is the Line Messenger app. It has launched this month for Wear OS watches including Galaxy Watch 4. The craze of the app is in Japan & Taiwan, where all the users use it to send messages. In the other countries, we have found many users using it. You can log in to the app using a barcode via a smartphone app. Like KakaoTalk, it is rich in features and also lets you send voice messages. Use emoticons, texts, stickers, handwriting, and other inputs to express your thoughts.
Download: Line
3. Pulse SMS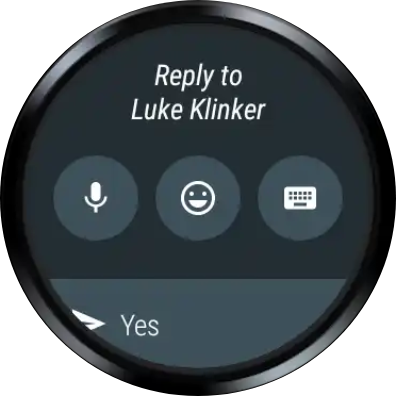 It is an old player for Wear OS by Google & Apple Watch platforms. Over a million users trust the app to manage their text messages on smartphones and smartwatches. It let you synchronize SMS to the Galaxy Watch 4 and manage them. Send & receive SMS, delete them, reply to them, and organize them from the watch itself. It let you use simple text, smart replies, quick replies, or voice inputs to the senders.
Download: Pulse SMS
4. Google Messages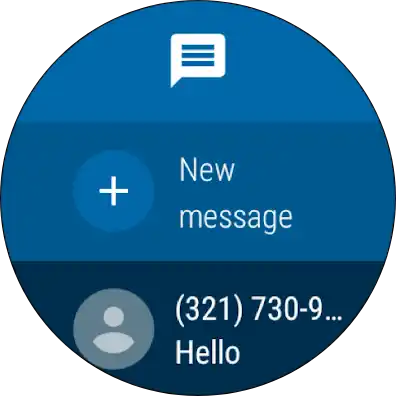 It has been launched by Google for Android phones & watches. On the Samsung smartphones, the company by default uses Messaging services. For better features, you can use the Google Message service. It let you send SMS, MMS & RCS chats on Galaxy Watch 4 series. Send messages using texts, GIFs, emoji, stickers, audios, and quick replies. You can organize messages, delete them, share them or block them. To let it work, you have to make Google Messages your default messaging service on a paired smartphone.
Download: Google Messages
5. Viber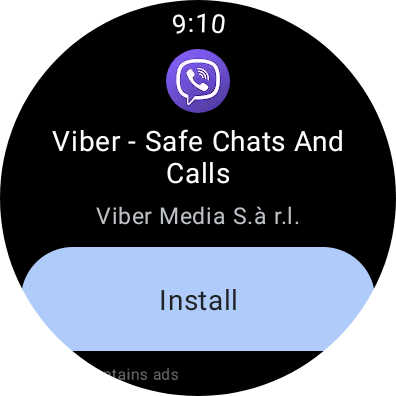 Again Viber is the top app for the Samsung smartwatch. It replaces your traditional messaging service with its clean and rich service. You can send text messages, receive them, and also see incoming calls. It has simple text, voice, stickers, emojis, and quick replies while using messages. You can also make calls from the app, but you have to use a smartphone to answer them. Most of its features are free to use, and also you can consider going for it.
Download: Viber
I am sure, in the coming months, we can see more social media apps on Galaxy Watch 4. There are rumors Telegram & Facebook Messenger apps could return to the smartwatches.