The new year, 2021 will surely be the best year for smartwatch users. In the current year, customers will get feature-rich wearables that included with ECG, fall detection, heart rate, SpO2 or blood oxygen monitoring, and swim tracking functions. The ECG, fall detection and SpO2 are kind of new features on smartwatches. In the year 2018, Apple was the only player to offer ECG function its Apple Watch Series 4 but now most smartwatches have it. Same with the blood oxygen saturation and fall detection. The Fitbit Versa 2, Galaxy Watch Active 2, and Apple watches have come up with them.
In the last two years, smartwatch makers are more conscious of their wearables – smartwatches & fitness trackers. We have seen many wearables launched with many fitness features, but some are focusing on one specific function. The Apple Watch series have all-in-one features and the watches like Garmin Swim 2 and Huami Amazfit GTR offer only fitness functions. If you are new to the smartwatch world and have a wish to buy a new product, then today, I will guide you to make a purchase. Here are the best smartwatches in 2021 with ECG, heart rate monitoring, SpO2 or blood oxygen level and swim tracking features.
Best smartwatch to buy in 2021
1. Apple Watch Series 5
Apple always knows what features its customers want and the company consistently fulfills it. The new Apple Watch Series 5 is remarkably the best smartwatch in the market. It comes with all the possible features you are dreaming about your new smartwatch. The Electrocardiogram & fall detection functions are so accurate that we have heard much life-saving news about them.
It offers an always-on display, HR monitoring, swim tracking, 18 hours of battery life and a couple of other features. You can also make and receive calls as well as get social media or text messages on the watch. Apple Watch Series 5 only works with iPhone so if you have iPhone 11, iPhone XS or other new iPhone, then buy it.
Buy Now
2. Samsung Galaxy Watch Active 2
After Apple, Samsung is the other company that makes the best wearable products. After abandoning Wear OS, Samsung go after its Tizen OS and it became a big hit for the company. The Samsung Galaxy Watch Active 2 is the best smartwatch in the market. It has ECG (not activated yet) feature to take care of your health and guide you to choose the appropriate medicine (of course, in the guidance of your doctor).
It offers 2 days of battery life, automatic sleep tracking, HR monitoring, swim tracking, 24/7 activity tracking and support for both Android & Apple. It comes with a 40mm & 44mm display and you can make calls, store songs and play music. The Galaxy Watch Active is always getting new updates that add new features, new watch faces, and support from third-party apps.
Buy Now
3. Fitbit Versa 2
Fitbit is a fitness-centric company, always offers the best fitness apps & new functions into its Fitbit Store. Fitbit Versa 2 is such a watch that you need in your workout sessions. Recently, Fitbit has activated the blood oxygen saturation option on the Versa 2 to check the blood oxygen level and to make sure you don't have any sign of sleep apnea. It has all the features that you see on Apple & Samsung watches, plus Fitbit launches new apps in the fitness category.
This month, Fitbit has released a new snore detect app to check the sleep quality. You also get Spotify music service and Amazon Alexa voice assistant on Fitbit Versa 2 smartwatch. The other notable functions are swim tracking, HR monitoring, automatic sleep tracking, 5-7 days battery life. It costs only $199.95 in the store.
Buy Now
4. Mi Watch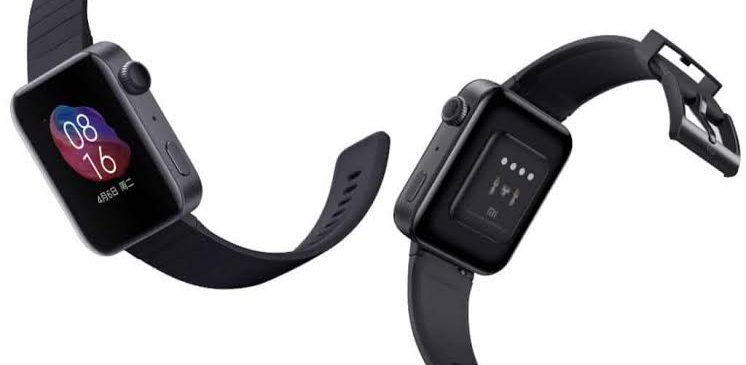 Xiaomi's latest creation in the wearable market. After the successful launch of Mi Band 4 & Band 3i, the company moved to Mi Watch. All we know Xiaomi is best known for all the features and apps in the affordable device. The new Mi Watch is such a smartwatch that offers all the functions at a budget price. It runs on MIUI-based Android's Wear OS. It unlocks all the Wear OS features and more than 40 apps to use.
You can receive & make calls, 24/7 activity tracking, HR monitoring, sleep tracking, a week of battery life and 1GB RAM & 8GB storage are a significant feature of Mi Watch. It has a Wear OS system so you will get all the third-party apps and upcoming apps on the watch. It is currently available in China and soon makes debut in other countries.
Buy Now
5. Fossil Gen 5
Best Wear OS smartwatch in the market is Fossil Gen 5. It beats all other Misfit, Mobvoi, Puma, and watches that are running under the same brand. It runs on Wear OS. You get all Google features like Google Map, Google Fit and Google Assistant. You will get thousands of apps from the Android Play Store. You can take calls and answer them right from the watch.
It offers two days of battery life, memory to store music, swim tracking, sleep tracking and many sport modes.
Buy Now
6. Apple Watch Series 4
A year-old Apple Watch Series 4 is still ruling in the market. If you can't afford Series 5 smartwatch, then you can go with Series 5, which almost offers the same features. It launched in 2018 and it was the first watch to get ECG function. It runs on WatchOS 6 update makes it familiar with the new model. You can get app notifications, make calls on the LTE version, and track all the activities with GPS function.
It is the best Apple Watch by the price and for all activity. As we said earlier, you can only use it with iPhone or iPad that it doest support Android smartphones.
Buy Now
7. Samsung Galaxy Watch Active
Same as Series 4, it is Samsung's affordable smartwatch. The Galaxy Watch Active has upgraded features of the original Galaxy Watch and almost beats at a price. Sadly, it doesn't have an ECG or fall detection function. You will get all the other features like 24/7 activity tracking, sleep & Heart rate measurement, and 4GB storage to store the music & images. Sadly, it won't come with an LTE version so you can't make calls without using a smartphone.
It has thousands of apps and watch faces in Galaxy Store. The recent Samsung update has activated touch bezel on the Galaxy Watch Active to use its digital bezel. The smartwatch is available in all countries.
Buy Now
8. Apple Watch Series 6
The six-gen Apple Watch is the most innovative smartwatch in the whole lineup. Along with all the features of Series 5, Apple has introduced sleep tracking, SpO2 monitoring, and many more features. It offers a 1.78-inch screen, Apple A6 processor, WatchOS 7 OS, 1GB RAM, 32GB storage, 4G LTE connectivity, smart notification, ECG, fall detection, Vo2 max, and 2 days battery life.
With the rich library of apps, games & watch faces, it stays way ahead of the competition. If you have a high budget, then you can go with Apple Watch Series 6.
Buy Now
9. Galaxy Watch 3
There is no huge gap in the specs between Apple Watch Series 5 & Series 6. When you look at the Galaxy Watch 3 over Watch Active 2, then you can see a huge difference. The new smartwatch launched with ECG, fall detection, blood pressure, Vo2 max, blood oxygen, and advanced running analysis features.
The Galaxy Watch 3 comes in 41mm & 45mm sizes with 1GB RAM & 8GB storage. Other noticeable functions are the Tizen 5.5 version, always-on display, MIL-STD 810G design, Corning Glass DX & 2 days of battery life.
Buy Now
10. Watch GT 2 Pro
The first true premium smartwatch from Huawei. The Watch GT 2 Pro has opened the door to developers to launch their best apps, games & watch faces for the watch. It runs on the home-grown OS and comes with some impressive features like ECG & blood oxygen saturation.
It sports a 1.39-inch display, 32MB RAM, 4GB storage to save apps & offline music, and a 455mAh battery. It runs on Huawei Lite OS, which is really smooth in operation and battery life. For the users who don't want to go with Apple or Samsung, they can choose it at a fair price.
Buy Now
11. Fitbit Sense
Fitbit Sense is the most advanced smartwatch from the company. In the specs, it beats Versa 3 as well as some other smartwatches. It is the first watch to bring ECG function on any Fitbit device and the new stress level monitoring sensor is one of its kind.
Apart from the ECG, you can use Blood oxygen, Vo2 Max, advanced sleep, GPS, call answering, and smart notification features. Further, Fitbit Sense comes with both Amazon Alexa & Google Assistant functions.
Buy Now
12. Oppo Watch
Oppo Watch sets new boundaries in the Wear OS lineup by beating Fossil Gen 5, TicWatch Pro 3 LTE & Puma Watch. In the Wear OS platform, it is one of the few watches that offers ECG & Google Pay functions in most countries.
It doesn't run on Snapdragon Wear 4100 chipset, though the international version gets LTE technology. It sports 41mm & 45mm in size with 2 days of battery life. Along with it, you will get ECG, SpO2, LTE, GPS, 1GB RAM, 8GB storage, and third-party apps & games support.
Buy Now
13. TicWatch Pro 3 LTE
The new era of Wear OS starts with Mobvoi's new TicWatch Pro 3. It runs on Qualcomm Snapdragon Wear 4100 chipset, which is faster & more battery saver than the predecessor. It only lacks in ECG & SpO2 function, but the mighty competitor to the Apple & Samsung.
It offers a 35mm screen, GPS, LTE, 1GB RAM, 8GB memory, 10+ workout modes, and 72 hours battery life. You can get all the Google Play apps, watch faces, games, and Google services like Google Pay, Google Fit & Google Assistant on the TicWatch Pro 3 LTE model.
Buy Now
You can make your choice by reading all these specifications. All the smartwatches listed here comes with all needy functions. Also, all watches are available in major countries.